Twitter takes first steps toward IPO
COMING-OUT PARTY: Following Facebook's rise after a mismanaged debut last year, analysts are atwitter at the news the microblogging phenomenon plans to go public
Twitter Inc has filed for an initial public offering (IPO) with US regulators, the company said on Thursday, taking the first step toward what would be Silicon Valley's most anticipated debut since that of Facebook Inc last year.
The impending IPO of the microblogging phenomenon ignited a competition among Wall Street's biggest names for the prestige of managing its coming-out party.
Twitter is allowed to file its registration statement confidentially due to the Jumpstart Our Business Startups (JOBS) Act, a law that came into effect last year that loosened some of the regulations surrounding the IPO process and other forms of capital raising for emerging corporations with less than US$1 billion in revenue.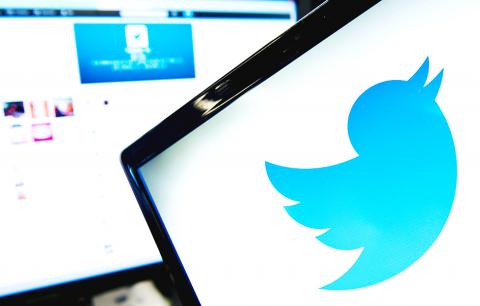 The logo of social networking Web site Twitter is displayed on a computer screen in London, England, on Wednesday.
Photo: AFP
Seven-year old Twitter, which allows users to send out streams of 140-character messages, has become an indispensable tool to governments, corporations and celebrities seeking to communicate with their audience, and for individuals seeking both news and entertainment.
Twitter chief executive Dick Costolo has for years waved off suggestions it intended to go public, saying the company remained flush with cash. Facebook's mismanaged debut last year and subsequent share-price plunge also chilled the consumer-dotcom IPO market.
However, Facebook has clawed its way back to its US$38 IPO price in July, and the stock is at a record high after touching US$45 this week.
Twitter, which has been valued by private investors at more than US$10 billion, should break even this year and is on track for 40 percent annual growth at a US$1 billion annual revenue run rate, Max Wolff of Greencrest Capital estimated.
"It's completely conquered mobile. It has an enormous social network. It's becoming a key utility as a second screen to TV and it's literally the first draft of history," Wolff said.
"Normally a company like Twitter would have been public for some time," he said.
Since Jack Dorsey, Twitter's inventor, dispatched the first tweet from a downtown San Francisco office in March 2006, the service has grown into a worldwide phenomenon with more than 200 million regular users contributing more than 400 million posts a day.
The company makes money by inserting paid, targeted ads that resemble ordinary, user-generated content. Twitter's success with its advertising model created a new paradigm for mobile advertising and prompted Facebook last year to adopt a similar ad product, called Sponsored Stories.
However, Twitter was one of the first to prove that in-stream advertisements could be a viable way to make money in the mobile era.
"There was a lot of concern about whether they'd ever be able to insert advertising into their site," Forrester analyst Nate Elliott said. "They've shown it can be effective. They offer in many ways better measurement for marketers than larger companies like Facebook."
Meanwhile, Silicon Valley boosters who were left red-faced by Facebook's stumble are hoping that Facebook's recovery and a smooth Twitter IPO would turn investor sentiment back toward consumer Internet companies.
"If 2012 was the Facebook IPO horror story, then all of a sudden 2013 is looking very nice," said Rick Heitzmann, a venture capitalist at Firstmark Capital, which has invested in consumer Internet companies including Pinterest.
"We're now seeing that these are real companies proving they can drive very, very impressive revenue," Heitzmann said.
Comments will be moderated. Keep comments relevant to the article. Remarks containing abusive and obscene language, personal attacks of any kind or promotion will be removed and the user banned. Final decision will be at the discretion of the Taipei Times.