South Korea targets growing global defense market
Aside from supplying its own air force, Seoul is reportedly in negotiations to sell its first home-built light fighter to Manila, with an eye to expanding to Europe and the Americas
South Korea, renowned for making high-tech consumer devices, cars and ships, now has its sights on exporting fighter jets amid a projected sharp increase in demand for military weapons in Asia over the next decade.
Korea Aerospace Industries Ltd (KAI) on Tuesday rolled out the nation's first home-built light fighter — the FA-50 — from its assembly plant in the southern city of Sacheon.
KAI officials say that they aim to sell about 1,000 FA-50s and T-50s overseas over the next three decades, and are eyeing markets in Southeast Asia, Eastern Europe and the Americas.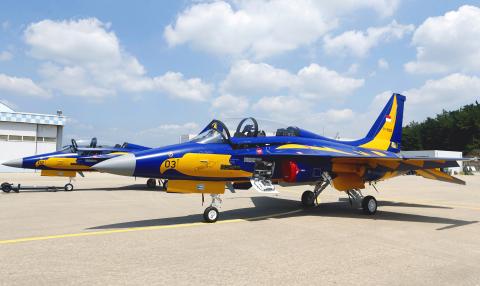 T-50i advanced jet trainers stand at the headquarters of Korea Aerospace Industries in Sacheon, about 440km southeast of Seoul, South Korea, on Aug. 14.
Photo: Reuters
"Countries in Southeast Asia and South America are finding FA-50s enormously attractive," Park Jeong-soo, a senior official from KAI's external affairs department, told reporters.
Global defense budgets are forecast to increase by 9.3 percent to US$1.65 trillion by 2021, according to analysts IHS Janes.
Defense budgets in the Asia-Pacific region are forecast to outstrip that in North America by 2021, up 35 percent from this year's levels to US$501 billion, it added in its Balance of Trade report in June.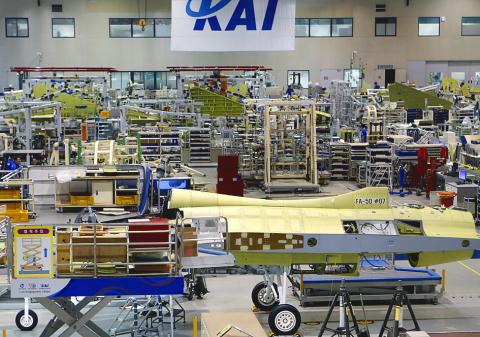 Engineers assemble an FA-50, South Korea's first home-built light fighter, at an assembly plant of Korea Aerospace Industries in Sacheon, South Korea, on Aug. 14.
Photo: Reuters
That will pit South Korea's fighters against US, European, Chinese and Russian companies in an increasingly crowded — yet still lucrative — market.
BUDGET CONSTRAINTS
South Korea is also planning to develop a much larger KF-X fighter with the help of US defense contractors, although that has been delayed by budgetary constraints.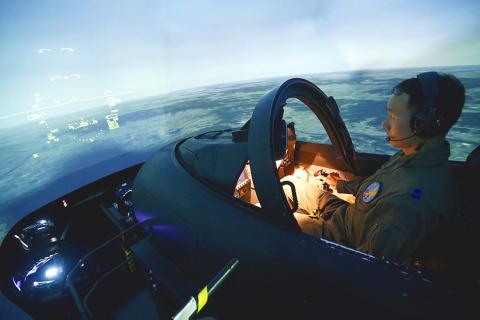 A pilot demonstrates a simulator of the T-50 advanced jet trainer at the First Fighter Wing of the South Korean air force in Gwangju, about 320km south of Seoul, South Korea, on Aug. 14.
Photo: Reuters
The first FA-50 is part of an order for 20 fighters by South Korea's air force, which will use them to replace its aging Northrop F-5 fighters.
Negotiations are ongoing with the Philippines, with a local online news outlet reporting that a US$460 million deal with Manila for 12 FA-50s could be completed this month.
Officials at the Sacheon headquarters of KAI declined to comment due to the sensitivity of the matter.
KAI chief executive officer Ha Sung-yong said that while South Korea's conventional export markets such as cars and shipbuilding faced tough competition, its aerospace industry should grow strongly.
"Now that KAI has established the groundwork with its own technology, it is necessary to grow the industry ... by contributing to the national military's force integration and creating jobs and exports," Ha said.
LOCKHEED
The FA-50 is based on the T-50 advanced jet trainer, which is already in service in South Korea and was developed together with US defense contractor Lockheed Martin.
The T-50 can also be fitted with weapons under its wings and used as a light attack aircraft. Indonesia was the first export customer with a 2011 order for 16 T-50s, and Iraq is in negotiations to buy 24.
KAI and Lockheed are gearing up for a lucrative US Air Force competition for at least 300 aircraft and maybe hundreds more worth several billion dollars, a deal that one South Korean officer called the "jackpot."
Comments will be moderated. Keep comments relevant to the article. Remarks containing abusive and obscene language, personal attacks of any kind or promotion will be removed and the user banned. Final decision will be at the discretion of the Taipei Times.