Low and mid-end smartphones to drive growth
SATURATION POINT: The high-end smartphone market in the US and Europe has seen more competitive brands outselling the likes of Apple, HTC and BlackBerry
High-end smartphones have reached a market saturation point, leaving low-end and mid-range models to drive global growth this year, a research report said yesterday.
Market researcher DisplaySearch forecast in the report that shipments of low-end and mid-range smartphones would climb by an annual 37 percent this year to 958 million units, accounting for more than 50 percent of global smartphone shipments.
Models priced below US$400 are expected to reach 530 million units, increasing more than 60 percent from the previous year, the report said.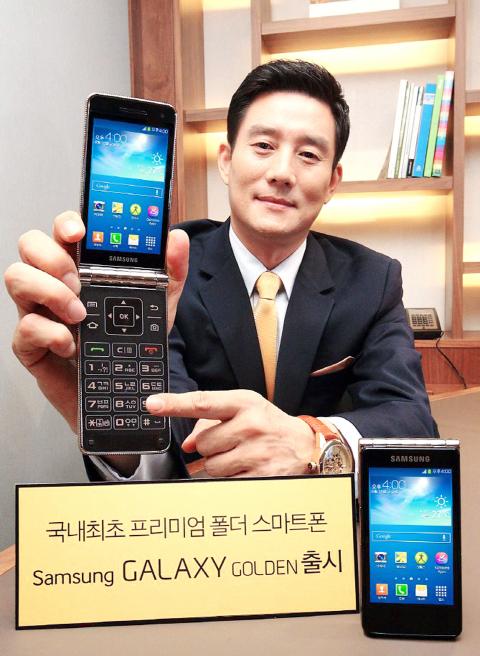 A Samsung Electronics Co. employee holds up what the company says is the world's first flip smartphone in Seoul, South Korea, yesterday. The "Galaxy Golden" serves as both a smartphone and as ordinary folder phone and targets older consumers who are more comfortable with flip phones, but also want the features of a smartphone.
Photo: EPA
Smartphones are expected to make up 55 percent of this year's total cellphone shipments, which are forecast to rise by an annual 4 percent to 1.73 billion, DisplaySearch said in the report.
For the first time, smartphone shipments will surpass feature phones, due mainly to growing sales of low-end and mid-range smartphone models, the firm said.
Shipments of Apple Inc's iPhone are expected to rise by an annual 10 percent, representing moderate growth compared with 46 percent last year, it said.
The slowing growth of iPhone shipments signals saturation of the high-end smartphone market in the US and Europe, the report said.
Apple has been unable to increase its smartphone share in the emerging markets because of competition from low-end and mid-range models, mainly from Chinese brands and other second-tier makers, DisplaySearch said.
Apple is not an isolated case, however, as its competitors — such as HTC Corp (宏達電), Nokia Oyj, BlackBerry Ltd, Motorola Mobility Holdings and Samsung Electronics Co — have also seen a drop in shipments of high-end models, the report added.
The rising popularity of low-end and mid-range smartphones has also forced component suppliers to change their business strategy by catering to vendors of those models, it said.
By 2015, smartphones priced at more than US$400 will account for less than 30 percent of high-end shipments, compared with 53 percent last year, DisplaySearch said.
Comments will be moderated. Keep comments relevant to the article. Remarks containing abusive and obscene language, personal attacks of any kind or promotion will be removed and the user banned. Final decision will be at the discretion of the Taipei Times.