Obama wants 'space' in choosing Fed chief
US President Barack Obama wants some "space" to make a decision on whom to nominate to replace US Federal Reserve Chairman Ben Bernanke when his term expires in January, a source familiar with the process said.
Obama is considering a handful of candidates for the top job at the US central bank. The front-runners are believed to be former US Treasury secretary and Obama economic adviser Larry Summers and current Fed Vice Chairperson Janet Yellen.
White House officials were annoyed when a group of Democrats in the US Senate wrote a letter to Obama strongly urging the president to pick Yellen.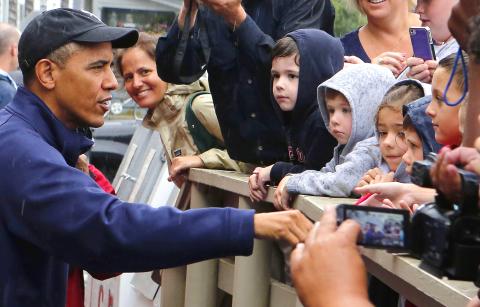 US President Barack Obama talks with children outside before ordering at Nancy's Restaurant at Oak Bluffs in Martha's Vineyard, Massachusetts, on Tuesday.
Photo: Reuters
White House deputy chief of staff Rob Nabors addressed the issue with US Senate Majority Leader Harry Reid's chief of staff, David Krone, the source said.
Reid's staff reiterated that he would support the president's choice, no matter whom he picks.
Obama said last week he would make his decision in the fall. During a press conference he also defended Summers — as he did with Democrats on Capitol Hill — for being unfairly maligned.
Summers was a top economic adviser to Obama during the first half of his first term. Liberal-leaning critics have knocked him for his role in spearheading financial deregulation in the 1990s and for not pushing for a greater amount of stimulus funds from Congress in 2009.
"The president hasn't raised the issue of the letter specifically, but believes he needs space to make a final decision," the source said.
"At the same time, what he has been unhappy about are what he views as unfair attacks against Larry, and has felt compelled to defend Larry, who was a key member of his team during a very difficult time," the source said.
A leadership transition will likely coincide with the tapering of a third round of so-called quantitative easing that has swelled the Fed's balance sheet to a record US$3.59 trillion, economists said.
A new Fed chairman would take over after tapering starts and before it ends. According to 65 percent of economists surveyed by Bloomberg, Bernanke will probably reduce the central bank's US$85 billion in monthly bond purchases next month.
The Federal Open Market Committee's (FOMC) first step may be small, with monthly purchases tapered by US$10 billion to US$75 billion, according to the median estimate in a survey of 48 economists conducted from Friday to Tuesday. The Fed will end the buying by the middle of next year, they said.
Bernanke will not attend the Kansas City Fed's annual economic policy symposium on Thursday to Saturday next week in Jackson Hole, Wyoming. He is scheduled to hold a press conference after the FOMC meeting next month.
By the December meeting, the pace of purchases will probably slow to US$55 billion, split between US$25 billion in mortgage bonds and US$30 billion in Treasuries, according to the survey. By March, the pace will slow further to US$15 billion of mortgage debt and US$20 billion in Treasuries.
According to the median estimate in the survey, the pace of purchases will fall to zero at the end of the FOMC's June 17 to 18 meeting. Once finished, the central bank will have purchased a total of US$1.29 trillion in bonds over the course of the program, divided between US$665 billion of mortgage securities and US$624 billion of Treasuries.
Comments will be moderated. Keep comments relevant to the article. Remarks containing abusive and obscene language, personal attacks of any kind or promotion will be removed and the user banned. Final decision will be at the discretion of the Taipei Times.