Far EasTone to increase mobile device purchases
Far EasTone Telecommunications Co (遠傳電信), the nation's third-largest telecoms operator, on Wednesday said it planned to increase its mobile device procurement budget by 37.5 percent this year and spend about half of the budget on mid and entry-level smartphones to meet growing demand.
According to a report by the Chinese-language Commercial Times, Far EasTone vice president Maxwell Cheng (鄭智衡) told reporters on the sidelines of HTC Corp's (宏達電) Desire Q product launch that Far EasTone's procurement budget had been expanded to NT$22 billion (US$736.77 million) this year from NT$16 billion last year.
The company expects to allocate up to 50 percent of the budget on the purchase of mid and entry-level smartphones, priced at less than NT$15,000 each, as these phones have become important drivers of growth for its mobile Internet business.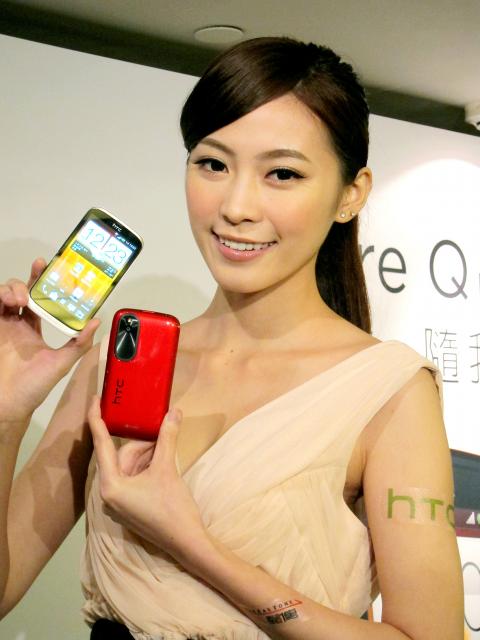 A model shows HTC's Desire Q smartphones, 4-inch Android phones customized for Far EasTone Telecommunications, on Wednesday in Taipei.
Photo: Wang Yi-hung, Taipei Times
The company would also double its purchases of HTC smartphones to about 500,000 units, accounting for more than 30 percent of its smartphone procurement, Cheng said.
The move came after the two firms in February signed a memorandum of understanding (MOU) to foster business cooperation.
Last year, HTC phones accounted for about 20 percent of Far EasTone's smartphone purchase, Cheng said, adding that under the MOU, HTC will develop more customized products for Far EasTone this year.
Last year, the telecoms carrier bought 1.3 million smartphones and 200,000 tablets made by HTC, Apple Inc, Samsung Electronics Co and Sony Corp, the company said.
It plans to increase its smartphone purchase by 15.4 percent to 1.5 million units and its tablet procurement by 50 percent to 300,000 units this year.
Cheng said Far EasTone's mobile Internet subscribers accounted for 42 percent of all its fixed-line and wireless Internet access customers last year.
This year, the company hopes to increase that rate to 50 percent, or more than 3.5 million subscribers.
Far EasTone expects sales of tablets to double on an annual basis, Cheng said.
Comments will be moderated. Keep comments relevant to the article. Remarks containing abusive and obscene language, personal attacks of any kind or promotion will be removed and the user banned. Final decision will be at the discretion of the Taipei Times.