S&P cuts Cyprus credit rating to 'CCC'
ADDING PRESSURE: The European Central Bank said that Cyprus must agree a bailout deal by Monday or it will withdraw emergency financing of Cypriot banks
Ratings firm Standard & Poor's dealt a further blow to reeling Cyprus on Thursday, cutting its credit rating as the eurozone country struggles to avoid a banking sector meltdown.
S&P lowered Cyprus' rating to "CCC" from "CCC+" as the country raced under a tight deadline to formulate an acceptable rescue plan with the EU.
The lowered credit rating would make it more costly for Cyprus to borrow, further exacerbating the stricken nation's woes.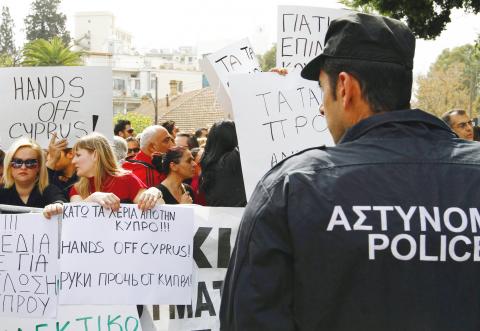 Banking-sector workers yesterday protest outside Cyprus' parliament in Nicosia as lawmakers debate emergency legislation leading to the break-up of Popular, the island's second-largest bank.
Photo: EPA
The US ratings firm warned the outlook was negative for the country, and that the rating could be lowered further if critical financing was not secured "soon."
"In light of building economic and financial stability pressures, the terms of any support package are likely to be unpopular and challenging to implement in the context of a severe, protracted economic downturn and an extended bank holiday. As a consequence, we believe that risks of a sovereign default are rising," S&P said.
S&P said that neither Cyprus' government nor bank shareholders appeared capable of meeting the pressing capital needs of its teetering banks.
"In the absence of foreign private or official capital injections into the Cypriot banks, we see few means to recapitalize the distressed portion of the system without converting bank liabilities, including deposits, into equity claims," it said in a statement.
The S&P downgrade came as the Cyprus Cabinet, meeting in a crisis session, was attempting to approve an alternative bailout plan after parliament rejected an agreement with the EU and IMF because it included a heavy tax on bank deposits.
The European Central Bank, ratcheting up the pressure, said that Cyprus must agree a bailout deal by Monday or it will withdraw emergency financing of Cypriot banks.
Standard & Poor's said: "We would likely lower the rating if Cyprus's government fails to obtain a financing program soon."
The "CCC" rating is three notches above sovereign default.
S&P discounted speculation that the crisis may force Cyprus to exit the eurozone.
"Our baseline expectation is that Cyprus will remain a member of the European Economic and Monetary Union," it said.
Comments will be moderated. Keep comments relevant to the article. Remarks containing abusive and obscene language, personal attacks of any kind or promotion will be removed and the user banned. Final decision will be at the discretion of the Taipei Times.