India trims key rate by a quarter point
REVIVING GROWTH: The Reserve Bank of India lowered its key interest rate to 7.5 percent after the country reported its weakest economic growth in 15 quarters
India's central bank yesterday lowered its key interest rate by a quarter percentage point to 7.5 percent, the second rate cut in three months aimed at reviving stalled growth in Asia's third-largest economy.
The Reserve Bank of India cited the weakest economic growth in 15 quarters as outweighing inflation fears. High prices, especially for food, still remain a concern and could limit the bank's scope for further rate cuts.
"Growth has decelerated significantly, even as inflation remains at a level [that] is not conducive for sustained economic growth," the central bank said in a statement.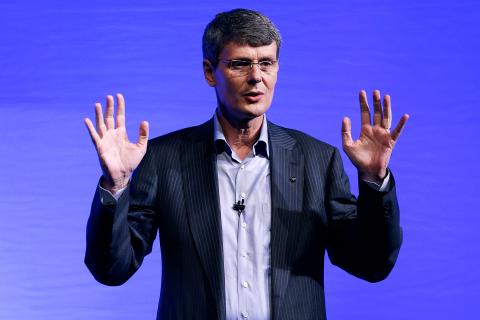 BlackBerry CEO Thorsten Heins gestures as he speaks during the launch of the BlackBerry Z10 smartphone in Sydney, Australia, on Monday.
Photo: Bloomberg
The government earlier this month estimated the economy grew 4.5 percent in the October-December quarter, down sharply from growth rates near 10 percent earlier in the decade.
While wholesale inflation has been hovering near three-year lows in recent months, the retail consumer price index hit a high of 10.9 percent last month, mostly due to soaring prices for cereals and meat.
The two figures mean the bank is balancing conflicting goals of keeping price increases under control, while lowering interest rates to encourage consumer spending and business investment.
Analysts say that even with the recent cuts, interest rates may still be too high to prompt businesses to borrow. The central bank yesterday also left the cash reserve ratio for banks untouched, after lowering it by a quarter point to 4 percent in January. A lower cash reserve ratio frees up more money for commercial banks to lend.
India's economy is expanding at its slowest pace in a decade, with GDP predicted to grow as little 5 percent in the fiscal year ending in March. That is down from 9 percent in early 2011, and it is paired with a rising budget and current account deficits that have weakened India's currency.
India's finance minister last month unveiled a new budget aimed at trimming the budget deficit and attracting foreign investment.
On Monday, India's finance minister said the government may further ease foreign direct investment (FDI) caps to spur greater inflow of funds from abroad and promote growth in its sharply slowing economy.
The Congress-led government in September reduced limits on FDI in various sectors from retail to aviation as part of a series of economic reforms.
"Many [more] caps can be removed or certainly relaxed ... Some of these caps are completely irrelevant," Finance Minister P. Chidambaram said, according to the Press Trust of India.
"We need to clear some of the cobwebs accumulated in India and go out and woo specific business houses," he said, without specifying in which areas FDI caps could be eased.
There are various sectors in which FDI is capped at below 100 percent, from telecoms to banking.
However, changes to the investment limits are hugely politically sensitive, with opposition parties charging that the government is selling out to foreign interests by allowing more overseas involvement.
Comments will be moderated. Keep comments relevant to the article. Remarks containing abusive and obscene language, personal attacks of any kind or promotion will be removed and the user banned. Final decision will be at the discretion of the Taipei Times.