Tiny fibers may have led to 787 battery failures
The US National Transportation Safety Board (NTSB) is investigating whether tiny fiber-like formations, known as dendrites, inside lithium-ion batteries could have played a role in battery failures on two Boeing Co 787 Dreamliners last month.
Dendrites — just one of several possible causes under investigation by the agency — accumulate as a battery is charged and discharged, and can cause short circuits, according to battery experts.
"As part of our continuing investigation, we are looking at whether dendrites may or may not have been a factor," Kelly Nantel, director of public affairs for the NTSB, said in an e-mail.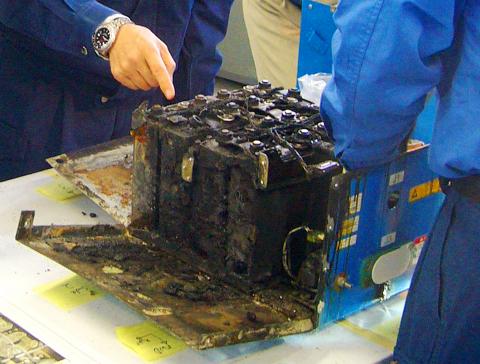 The burnt auxiliary power unit battery removed from an All Nippon Airways Boeing 787 Dreamliner which made an emergency landing on Jan. 16 is inspected by the manufacturer at the headquarters of GS Yuasa Corp in Kyoto, Japan, in a handout photo taken on Jan. 26 and released by the Japan Transport Safety Board.
Photo: Reuters
The Wall Street Journal reported on Monday that the NTSB was looking into dendrites, suggesting that investigators were looking at the tiny deposits as a major element in the probe.
Nantel said the NTSB has not ruled out any potential causes and that dendrites are "one of many things we are looking at" in determining what caused a battery aboard a parked Japan Airlines 787 to catch fire in Boston on Jan. 7.
"We are still considering several potential causes for the short circuiting" in the sixth of eight cells in the battery on the JAL plane, Nantel said.
Last week, NTSB chairman Deborah Hersman said that a short circuit in the lithium-ion battery had caused the fire.
The Japan Transport Safety Board (JTSB) is investigating a second 787 battery incident that prompted an All Nippon Airways plane to make an emergency landing in western Japan on Jan. 16. That battery showed signs of overheating.
Air safety regulators worldwide later grounded all 787s until the cause and a solution are found.
Boeing did not immediately respond to a request for comment. The planemaker completed what it called an uneventful test flight of a 787 on Saturday, its first since the lightweight, carbon-composite aircraft was grounded.
Nantel said other factors under investigation include the state of charge of each cell, and the method and delivery of that charge, contamination, electrode folds, wrinkles and pinches, "and the assembly of the cells and battery."
The NTSB is also looking at "the total design of the battery, including the physical separation of the cells, their electrical interconnections, and their thermal isolation from each other," she added.
Shares in GS Yuasa Corp, a Japanese firm that makes batteries for the 787, slipped 0.3 percent to ¥329 in Tokyo yesterday, underperforming a 2.4 percent gain on the benchmark Nikkei.
Comments will be moderated. Keep comments relevant to the article. Remarks containing abusive and obscene language, personal attacks of any kind or promotion will be removed and the user banned. Final decision will be at the discretion of the Taipei Times.