Exxon usurps Apple to be No. 1 stock
COMPANY COUP: Stock market darling Apple had been the world's most valuable firm for a year, but investor fears that it cannot continue making hit products hurt its ranking
Apple Inc surrendered the title of the world's most valuable company to Exxon Mobil Corp after concern over slowing growth drove the technology giant's shares to their biggest loss on the S&P 500 Index.
Apple's 12-month reign as the No. 1 stock ended after its shares slumped 17 percent this year, worse than any other company in the benchmark gauge for US equities.
The decline cut Apple's market capitalization to US$413 billion, below Exxon Mobil's US$418 billion.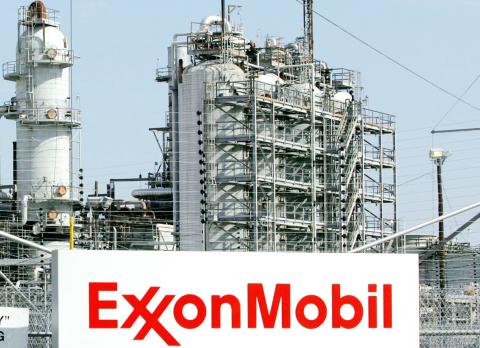 An Exxon Mobil refinery is pictured in Baytown, Texas, on Sept. 15, 2008.
Photo: Reuters
The switch in rankings reflected fading confidence in Apple, whose transformation from a near-bankrupt PC maker to a technology leader dominating the smartphone and tablet market over 15 years helped it become the most valuable US company ever last year.
Apple's shares have fallen by 37 percent from a record high in September last year amid concern that mounting costs and competition may curtail growth.
"You have one company that had pretty high expectations for it for the future and you have Exxon, that continues to chip away slow and steady," Jason Cooper, who helps oversee US$2.5 billion at 1st Source Investment Advisors, said in a telephone interview.
"People are coming to the realization that Apple is losing a little bit of gloss and shine," he added.
About US$245 billion has been erased from Apple's value since the California-based company's value rose to an all-time high in September last year. Even as chief executive officer Tim Cook guided Apple to record iPad and iPhone sales, investors worry about management's ability to keep making hit products more than a year after the death of co-founder Steve Jobs.
Samsung Electronics Co and others have followed Apple's lead into the era of mobile touchscreen devices and are grabbing market share by introducing smartphones in various designs and prices. In the tablet market, Apple's dominance is threatened by rivals such as Google Inc, which made its first foray with the Nexus 7 tablet.
Apple stock sank 12 percent on Thursday after posting its slowest quarterly profit growth since 2003.
Earnings are expected to continue to worsen in the current quarter, with analysts projecting a 14 percent drop, estimates compiled by Bloomberg show.
"There was little room for imperfection," JPMorgan Chase & Co analyst Mark Moskowitz said from in a telephone interview. "Investors jumped into the parade alongside growth in tech. They forgot that Apple is taking on a Herculean effort."
Exxon Mobil regained its No. 1 rank, which the Texas-based company had kept in four out of the six years through 2011, data compiled by Bloomberg show.
The stock is up almost 6 percent this year as profit is expected to rebound after three quarters of declines.
The energy producer may say on Friday that fourth-quarter earnings have increased 2 percent, analyst estimates compiled by Bloomberg show, as chief executive officer Rex Tillerson stepped up acquisitions and capital spending to reverse the longest stretch of quarterly production slides in 13 years.
"We're getting closer to maybe an inflection point as we enter 2014 where that growth could improve," Edward Jones & Co analyst Brian Youngberg said by telephone from St Louis. "Investors pick up on that ahead of time."
Apple may reclaim its top spot if analysts' price estimates come true.
Comments will be moderated. Keep comments relevant to the article. Remarks containing abusive and obscene language, personal attacks of any kind or promotion will be removed and the user banned. Final decision will be at the discretion of the Taipei Times.