Japan approves fresh stimulus package
DOWNWARD TREND: The spending package came as weak European markets and an East China Sea sovereignty row with China added to the nation's economic woes
Tokyo yesterday approved US$10.7 billion in fresh spending to help boost Japan's limp economy, just weeks before an election the ruling party is expected to lose.
The ¥880 billion (US$10.7 billion) in spending was more than double a package announced in October as the country gets set for polls that are expected to usher in Japan's seventh prime minister in six years.
However, the move, which came as official data showed Japan posted a surprise uplift in factory production in October, threatened to trigger vote-buying criticism from opposition lawmakers.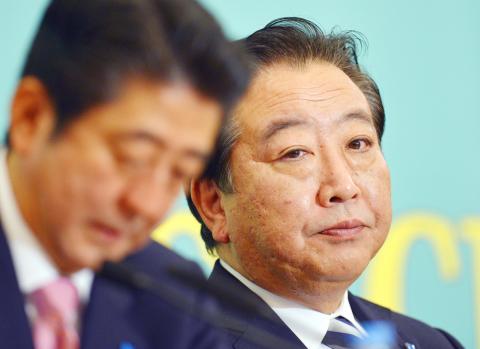 Japanese Prime Minister and leader of the ruling Democratic Party of Japan, Yoshihiko Noda attends a debate with main opposition Liberal Democratic Party President Shinzo Abe in Tokyo yesterday.
Photo: EPA
The spending will focus on boosting growth in a range of sectors, including healthcare and agriculture, as well as on public works projects following last year's earthquake and tsunami disaster.
Opinion polls suggest Prime Minister Yoshihiko Noda and his Democratic Party of Japan (DPJ) will be defeated by the country's main opposition leader Shinzo Abe, who heads the Liberal Democratic Party (LDP).
Abe has vowed to spend heavily on public works and pressure the Bank of Japan into launching aggressive monetary easing measures to boost growth if his party wins the Dec. 16 vote.
The central bank has unveiled two policy easing measures in recent months as its counterparts in the US and Europe launched huge moves to counter slowing growth.
Japan's economy contracted in the July to September quarter, nudging it toward recession and dousing hopes that the nation had cemented a recovery after last year's twin disasters, which triggered the worst atomic crisis in a generation.
Masamichi Adachi, a senior economist at JPMorgan Securities, questioned the effectiveness of the latest government stimulus measures.
"While [the package] wouldn't be a poison, it wouldn't be a medicine either," Adachi told reporters.
A glimmer of hope emerged yesterday as official data showed Japan's factory output rose 1.8 percent in October, the first rise in four months and beating market expectations of a 2.2 percent drop.
Separate figures showed the jobless rate held steady while household spending for the month was better than expected, suggesting a possible improvement in consumer confidence.
The unexpected output jump — and a producers' survey that forecast a 7.5 output rise this month after a small decline for last month — gave the Tokyo stock market a small boost with the benchmark Nikkei 225 index adding 0.48 percent by the close.
However, the economy ministry doused hopes that the latest data was something to cheer about, saying in a statement that output was on a "downward trend."
Credit Agricole economist Kazuhiko Ogata cautioned against optimism, saying a sustained recovery would depend on stronger overseas demand for Japanese exports, while producers will have to bring down their built-up inventory.
"A bottom-out of production would be confirmed only after the turn of the year at the earliest," Ogata said.
Chris Tedder, research analyst at Forex.com in Sydney, said the new figures quelled "some concern of a prolonged slowdown in the world's third-largest economy."
However, "overall, the data isn't enough to turn us away from predicting a recession in Japan this quarter," he said.
As weak European markets dent demand for Japanese exports, a territorial row over islands in the East China Sea claimed by Tokyo, Taipei and Beijing has also affected the trade balance owing to a consumer boycott of Japanese brands.
Japan's top three automakers — Toyota, Nissan and Honda — all reported that the row with China has affected sales and profits, with October data on Thursday showing a marked drop output in China, the world's biggest vehicle market.
Comments will be moderated. Keep comments relevant to the article. Remarks containing abusive and obscene language, personal attacks of any kind or promotion will be removed and the user banned. Final decision will be at the discretion of the Taipei Times.