HK property tax targets foreigners
Hong Kong's government announced its first property tax targeted at overseas buyers, stepping up efforts to cool home prices as US monetary easing and record-low interest rates raise the risk of a bubble.
Non-local and corporate buyers will have to pay a 15 percent tax upon purchase, Hong Kong Financial Secretary John Tsang (曾俊華) told reporters at a press conference on Thursday. The government also raised a resale tax on property by about 5 percentage points and extended the period during which it will apply to three years from two.
Hong Kong is imposing its third set of property curbs in two months, after home prices almost doubled over three years to become the world's most expensive.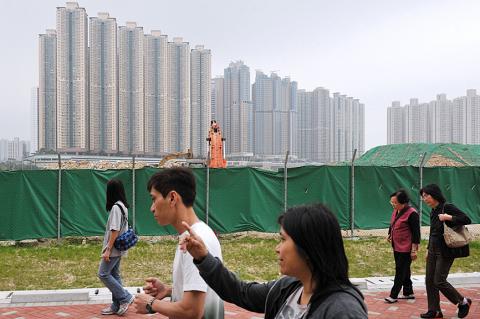 People walk down a walkway overlooking residential building blocks on April 4 in Hong Kong, China.
Photo: AFP
"These measures will be effective in reducing the number of transactions, but ineffective in curbing the property prices," said Cusson Leung (梁啟棠), a Hong Kong-based property analyst at Credit Suisse Group AG. "The non-local buyers' stamp duty is more of a PR stunt as it responds to Hong Kong homebuyers' demand to raise the barrier for foreign investors."
Record-low mortgage rates, an influx of buyers from other parts of China and a lack of new supply have been underpinning the Hong Kong property market, prompting Hong Kong Chief Executive Leung Chun-ying (梁振英), who was sworn in as the city's leader in July, to accelerate land sales and give preference to local buyers in some projects.
The nine-member Hang Seng Property Index has jumped 30 percent this year, driving the benchmark Hang Seng Index to the highest in more than 12 months this week.
Property owners who sell their homes within six months of their purchase will need to pay a 20 percent special stamp duty, up from 15 percent, Tsang said.
For resale between seven months and 12 months, the duty will increase to 15 percent, and transactions between 13 months to 36 months, the duty will be 10 percent.
"The current housing supply lags behind the soaring demand; we need to work on the demand-side measures," Tsang said. "These measures target specifically property investors who resell the flats within three years, but not the genuine end-users."
Prices of small to medium-size apartments have advanced 21 percent this year, raising concerns about affordability, he said.
The surge in property prices is out of sync with the economy, where exports and retail sales have been declining, Tsang said.
"The low-interest-rate environment will likely continue and Hong Kong property prices are likely to climb," he said.
"The property bubble is likely to increase the risks" to the economy and people's livelihoods, he added.
Non-local buyers account for 19.5 percent of total sales of first-hand properties in Hong Kong last year and 6.8 percent of total sales of second-hand properties last year, Tsang said.
Hong Kong joins Singapore in efforts to cool soaring property prices by targeting non-residents. Singapore in December imposed an additional 10 percent stamp duty on foreigners and corporate entities.
The new measures will not apply to Hong Kong permanent residents, who according to the Basic Law of Hong Kong have right of abode in the special administrative region.
Comments will be moderated. Keep comments relevant to the article. Remarks containing abusive and obscene language, personal attacks of any kind or promotion will be removed and the user banned. Final decision will be at the discretion of the Taipei Times.