Citigroup pays fine over Facebook IPO
PRICE TO PAY: The group's top Internet analyst, who has previously been in similar trouble, was fired for disclosing sensitive financial information before Facebook's IPO
Citigroup fired its top Internet analyst, Mark Mahaney, and paid a US$2 million fine to a Massachusetts regulator to settle charges that the bank improperly disclosed research on Facebook Inc's initial public offering (IPO) as well as information on other technology companies.
It was the first formal charge involving an underwriter's disclosure of sensitive financial information ahead of the social media company's US$16 billion IPO in May.
Lead underwriter Morgan Stanley has come under criticism for revealing revised Facebook Inc earnings and revenue forecasts to select clients on conference calls ahead of the IPO, leaving the rest of the investing public in the dark.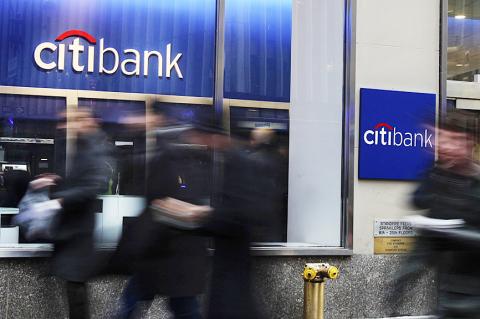 People walk past a branch of Citigroup's Citibank in New York on Jan. 17.
Photo: Reuters
In the Citi case, a junior analyst working for Mahaney e-mailed research to journalists at the Techcrunch news Web site, who published some of the information in a blog post, according to the Massachusetts complaint released on Friday.
The state's top securities regulator, William Galvin, charged Citigroup Global Markets Inc with breaking Massachusetts securities laws that prohibit analysts at underwriting firms from sending "written research or other written content" until 40 days after IPO.
He would not say how close his office might be to charging any other firms, or what kind of evidence they may have. Gavin said the Citi case was completed first because his office was able to obtain e-mails showing how the analysts broke the rules.
Some market participants questioned whether the Citi analysts' actions were that bad and said that Mahaney has consistently received high marks in surveys of institutional investors.
Citi fired Mahaney and the junior analyst, and said it was pleased that the matter with Massachusetts has been resolved.
Galvin said he is still probing the other underwriters involved in Facebook Inc's IPO, including Morgan Stanley, Goldman Sachs and JPMorgan Chase.
"Unfortunately, the message from this is that analysts should give less information to cover their behinds, but the smooth functioning of markets requires the exact opposite of this," said Max Wolff, chief economist and senior analyst at research firm GreenCrest Capital.
"This is a move in the wrong direction," he added.
Legal experts say it is unclear whether industry rules specifically prohibit brokerages from giving information to select groups of clients in a phone call, as Morgan Stanley did. So far, there has been no regulatory action against Morgan Stanley or any of its analysts.
According to the Massachusetts complaint, an unidentified junior analyst sent some of Citi's confidential views on investment risks and revenue estimates for Facebook Inc to two employees of Web site TechCrunch.com, which is owned by AOL Inc, three weeks before Facebook Inc went public on May 18.
Mahaney failed to properly supervise this junior analyst, according to the Massachusetts complaint.
One of the most respected Internet analysts on Wall Street, Mahaney had previously been in trouble with his bosses for sharing information with journalists.
On April 11, Citi's director of research for the Americas sent Mahaney a "letter of education," noting that he had broken the bank's rules when he spoke to journalists at Bloomberg and the New York Times without first obtaining legal approval, according to the complaint.
Only weeks after receiving that letter, Mahaney again broke Citi's rules when he passed unpublished views about Google Inc's YouTube revenue estimates and profitability to a reporter at Capital Magazine, a French publication, the civil complaint said.
Mahaney came to Citi in 2005 from Galleon Group, the hedge fund led by Raj Rajaratnam, who was later convicted in one of the biggest insider-trading crack-downs in US history.
Comments will be moderated. Keep comments relevant to the article. Remarks containing abusive and obscene language, personal attacks of any kind or promotion will be removed and the user banned. Final decision will be at the discretion of the Taipei Times.