Japan approves new stimulus budget
Japan yesterday approved a US$5.3 billion cash injection to boost the stuttering economy, a move likely to add pressure for more central bank measures with a general election on the horizon.
In a package that earmarked cash for the coast guard amid an island dispute with China, the Cabinet approved the ¥422.6 billion (US$5.3 billion) in emergency spending, with money to come mainly from reserve funds rather than new debt.
"We hope the package will lead to an exit from deflation and jumpstart the economy," Chief Cabinet Secretary Osamu Fujimura told reporters yesterday in Tokyo, referring to the falling prices that have plagued Japan for years.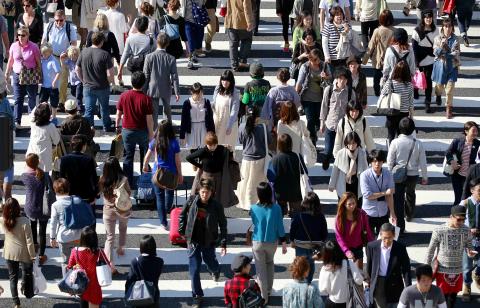 People cross a street in Tokyo's Harajuku shopping district yesterday. Japan remains mired in deflation, price data showed yesterday, piling pressure on the central bank to deliver more stimulus next week to keep the world's third-largest economy from sliding into recession.
Photo: Reuters
The move was expected to pressure the Bank of Japan to extend its ¥80 trillion asset-purchase scheme after a policy meeting next week, analysts said, as Japan's post-disaster economic recovery slows.
"The actual impact of the package on the real economy appears to be limited," said Masatoshi Sato, strategist at Mizuho Investors Securities.
"But it can be a message to the market and the Bank of Japan ahead of its policy-making meeting, saying the government is taking its own action," he said.
The size of the package also highlighted growing stress on Japan's national budget after Tokyo said last month it would suspend ¥5 trillion in spending due to a political row that has left the government facing a cash crunch that could see it run out of money within months.
The new aid "is clearly just the latest attempt by a desperate government with limited resources to spur economic growth," Forex.com analyst Chris Tedder said in Sydney.
"But it is doubtful whether it will have a meaningful impact. It's a bit like throwing a small stone into the middle of a lake. The ripples are going to dissipate long before they hit the shoreline," he said.
Another package is expected next month.
The extra budget measure announced yesterday is the first in the current fiscal year to March, after Tokyo earlier approved trillions of yen in reconstruction and disaster aid.
Some funds will help promote stem-cell research after Japan's Shinya Yamanaka won this year's Nobel Prize in Medicine for his work in the field.
Comments will be moderated. Keep comments relevant to the article. Remarks containing abusive and obscene language, personal attacks of any kind or promotion will be removed and the user banned. Final decision will be at the discretion of the Taipei Times.