LG aims to control next-generation TV
TIMING CRUCIAL: LG Electronics' white OLED screen technology will allow it to upscale production much faster than larger rival Samsung, LG's TV boss said
South Korea's LG Electronics, long overshadowed by Samsung Electronics, is confident it can outpace its bigger rival in the race to dominate the world's next-generation TV market.
LG, the world's second-largest TV maker after Samsung, believes its technology will give it the edge in organic light-emitting diode (OLED) sets, which are expected to drive the industry in the future.
"We have been relatively slower in introducing new devices [than Samsung], but when it comes to OLED TV ... we can run far faster than the rival," said Ro Seog-ho, executive vice president of LG's TV business.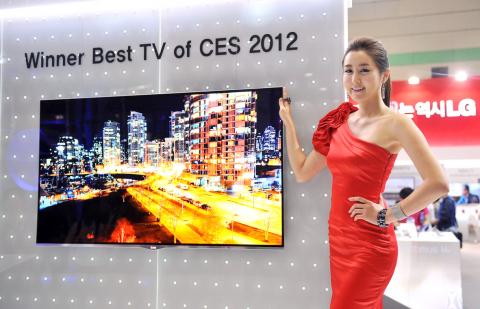 A model demonstrates LG Electronics' 55-inch OLED TV, which is just 0.16 inches thick, during a technology show in Seoul, South Korea, on May 15.
Photo: AFP
"I think there's a very high chance that we can win this game," he said in a recent interview.
OLED TVs do not require separate backlights and thus are thinner, consume about 20 percent less power and offer a sharper picture than conventional flat-panel sets.
An LG OLED model, 55 inches wide, but just 0.16 inches thick, was crowned best gadget of the Consumer Electronics Show in Las Vegas in January, trumping a similar-size Samsung set.
However, manufacturers are still struggling to cut the cost of making the delicate panels in large quantities.
LG and Samsung are set to begin sales of the OLED TVs in the latter half of this year, but with price tags more than US$10,000.
Market researcher iSuppli estimates just 34,000 global sales of OLED sets this year, possibly growing to 2.1 million sets in 2015.
Ro said LG's version of the technology — called white OLED — would allow cheaper and faster mass-production of panels with more vivid images than Samsung, which uses a technology called red, green and blue.
"It means we can increase panel yield rate faster than them and eventually cut prices faster," he said.
Struggling Japanese TV giants Sony and Panasonic teamed up last month to jointly develop OLED panels, but Ro said it would take them one or two years to roll out a new panel.
"You can't introduce a new technology too early for consumers to accept, but at the same time, you can't introduce it too late when there's no room left for you to squeeze in," he said.
LG Electronics expects to sell 30 million TV sets of all types worldwide this year, up nearly 20 percent from last year. 3D sets are expected to make up more than 10 percent of the total.
LG scored a rare turnaround in the first quarter of this year, after mostly bleeding for two years because of its loss-making mobile phone unit. Its home entertainment division, driven by sales of 3D TVs, reported an operating profit of 217.1 billion won (US$191.4 million) out of 448.2 billion won in overall profit.
The unit would post a similar profit range for the second quarter on growing demand in emerging markets, Ro said.
"The situation in Europe has worsened far faster than we had expected ... but at the same time, these emerging markets have grown far faster than we thought," he said.
Latin America and the Middle East helped drive growth, and sales in former Soviet states had risen 50 to 60 percent from a year earlier.
Comments will be moderated. Keep comments relevant to the article. Remarks containing abusive and obscene language, personal attacks of any kind or promotion will be removed and the user banned. Final decision will be at the discretion of the Taipei Times.