Apple loses patent suit against HTC in London
Apple Inc lost an important patent battle against smartphone rival HTC Corp (宏達電) in the high court in London on Wednesday, meaning that the Silicon Valley company cannot ban certain HTC products in Britain.
As rumors intensified that Apple is about to launch a cut-price version of its iPad to grab even more of the tablet market, HTC won what one independent lawyer called a "significant" victory after the high court invalidated a patent covering the "slide to unlock" method used to access the main screen.
It means that Apple cannot ban imports to Britain of HTC phones that use a similar system — and the decision could affect other Apple cases in Europe against HTC, Motorola Mobility Holdings Inc and Samsung Electronics Co.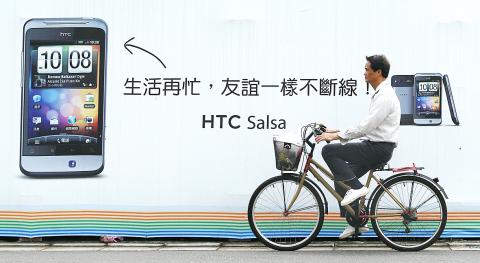 A man cycles past an HTC advertisement in Taipei on Dec. 7 last year.
Photo: Reuters
The UK court ruling is the latest round in an international patent war between Apple and rivals that make handsets and tablets using Google Inc's Android mobile software.
This week, Apple won an injunction against Samsung, preventing it from exporting its Galaxy Tab tablets and Galaxy Nexus smartphones to the US. In response, Samsung and Google are working on a software patch to change how the devices work and circumvent the cause of the injunction.
Peter Bell, a senior associate in the intellectual property team at law firm Stevens & Bolton LLP, said the decision was "a considerable defeat" for Apple in the smartphone patent wars.
"Two of Apple's prize patents have been knocked out in the UK, including the patent that protects the 'slide to unlock' mechanism that consumers are likely to associate with Apple's products, and a third patent has been knocked out in part. The fourth patent that was in dispute was held not to be invalid, but not infringed by HTC's devices," he said.
Bell said Apple may take the case to the court of appeal, while HTC may use the result in other ongoing cases around Europe.
Richard Windsor, a technology analyst at financial firm Nomura, said ahead of the ruling that: "The issue here remains Android. If these [Apple] patents stand up to examination at trial and are found to be valid, then there are substantial implications for all Android devices, as it's that software where the infringement claims are being made."
Apple UK declined to comment on the judgment, but reiterated its stance on patents.
"We think competition is healthy, but competitors should create their own original technology, not steal ours," a company statement said.
Comments will be moderated. Keep comments relevant to the article. Remarks containing abusive and obscene language, personal attacks of any kind or promotion will be removed and the user banned. Final decision will be at the discretion of the Taipei Times.