Disney to ban junk-food adverts
Walt Disney Co, in a first for a US media giant, said on Tuesday it would ban junk-food advertising on its TV channels and Web sites from 2015 to help fight obesity among US children.
"This new initiative is truly a game-changer for the health of our children," said US first lady Michelle Obama, a champion of better eating for young people, who attended Disney's landmark announcement in Washington.
"This is a major American company, a global brand, that is literally changing the way it does business so that our kids can lead healthier lives," she said.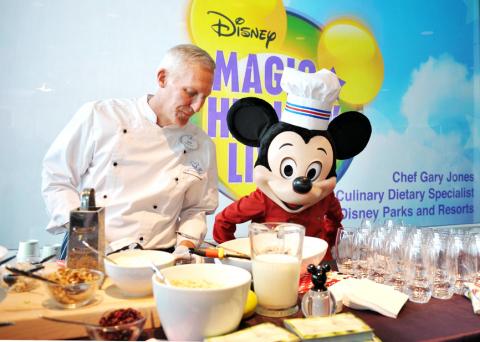 Mickey Mouse, right, is seen helping to prepare healthy food during a press conference at the Newseum in Washington on Tuesday.
Photo: AFP
In a statement, Disney said all food and drinks advertised on Disney Channel, Disney XD, Disney Junior, Radio Disney and Disney-owned children's Web sites would, from 2015, be required to meet its own nutrition guidelines.
The rules also apply during Saturday morning cartoons on the ABC stations owned by Disney, which reach one in four US households from New York to Los Angeles.
"The nutrition guidelines are aligned to federal standards, promote fruit and vegetable consumption, and call for limiting calories and reducing saturated fat, sodium and sugar," it said.
Breakfast cereals, for instance, would have to contain less than 10 grams of sugar per serving in order to be advertised on Disney. Kellogg's Sugar Frosted Flakes, squarely targeted at youngsters, now come in at 11 grams.
Besides the new advertising standards, Disney said it would roll out a "Mickey Check" check-mark icon this year to identify nutritious food and menu items at its retail shops and theme parks.
Seventeen percent of US children are obese, a figure that has tripled in 30 years, according to a report last month from the Institute of Medicine that warned of a "catastrophic" impact on national healthcare and productivity.
Another study, published in the American Journal of Preventive Medicine, said 42 percent of Americans could be obese by 2030 — the year when today's eight-year-olds will be turning 26.
The Grocery Manufacturers Association (GMA), whose members include such food industry giants such as Kellogg's and Kraft Foods, called Disney's announcement "another important step" toward helping consumers have a healthy diet.
"We have voluntarily adopted strict advertising criteria so that 100 percent of ads seen on children's programming from GMA members now promote healthier diet choices and better-for-you products," a statement said.
However, others expressed skepticism.
"Kids aren't obese because they are watching fast-food commercials on the Disney Channel," wrote a Virginia resident under an online story about Tuesday's announcement on the Web site of Advertising Age, a trade journal. "They are obese because instead of being active, they are sitting in front of a TV ... How about creating TV shows that challenge kids to be active while watching?"
Comments will be moderated. Keep comments relevant to the article. Remarks containing abusive and obscene language, personal attacks of any kind or promotion will be removed and the user banned. Final decision will be at the discretion of the Taipei Times.