Uganda's grasshopper catchers hopping mad over power cuts
Power outages are quite the inconvenience to farmers, who use high-watt bulbs to ensnare their delicious jumping prey. With such an erratic catch, the popular bar snack is in high demand
Standing in the glare of a 250 watt light bulb in the yard of his uncle's house, Hilary Turyamugumya peers hopefully into the night sky in search of grasshoppers.
"Every evening I first pray for there to be power — and then I pray that the grasshoppers will come," Turyamugumya said.
Stripped of their wings and fried with onions, grasshoppers are a delicacy in Uganda's central region — gobbled up by the handful and washed down with beer in bars around Kampala.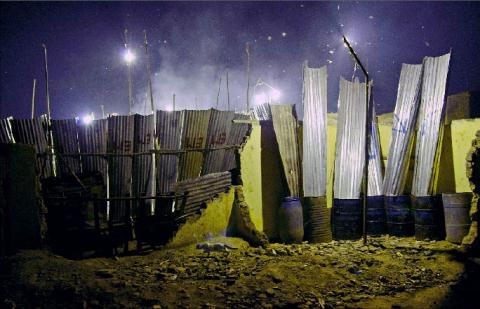 A corridor of bright lights used to attract grasshoppers to an outdoor trap is pictured in Kampala, Uganda, on Dec. 11 last year.
Photo: AFP
This time of year should be peak season for the insect catchers, but Turyamugumya — who uses bright lights to attract the flying insects before disorientating them with smoke and trapping them in disused oil drums — says that business is tough.
"The problem has been power. It is on and off. Like last night, the whole night it was off," the 33-year-old said.
From bakeries to beauticians to building firms, small businesses across Uganda have been struggling to cope with worsening power cuts in recent months.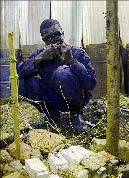 A man wires together cables to power lights used in grasshopper traps in -Kampala, Uganda, on Dec. 11 last year.
Photo: AFP
Growing demand and a government failure to pay its bills saw power to some parts of the country cut for days at a time.
For Turyamugumya, and many others who work catching grasshoppers, no power means no light and no light means no grasshoppers.
Turyamugumya estimates his income this season will be half what it was in the previous grasshopper season.
"There is a shortage of grasshoppers and it is creating a problem for those who are catching and selling them," Turyamugumya said.
Wandering up and down a strip of bars in the bustling Kabalagala suburb of the capital with his plastic bucket of grasshoppers, vendor Andrew Tumulamye agrees.
Power problems mean that the price he pays for grasshoppers at the market has gone up — and that means insect-loving bar-goers are having to pay more for the snacks. The price for the smallest bag has doubled to about US$0.45.
"When power is not good the prices go up and our customers cannot buy," said Tumulamye, who is 18.
However, despite the price rises, the lure of a freshly fried grasshopper is too strong to resist for many Ugandans.
"They have a lot of proteins and a special taste like shrimps, they are like seafood. Look at this head, it is what I like most," said bar owner Asha Cartier, after washing down a crunchy mouthful of insects with a glass of vodka.
As for the broader issue of power, the government admits that years of under-investment in the sector have left the country facing major shortfalls and forced the authorities to rely on expensive diesel generators.
In recent months, rising fuel prices and a weakening local currency have meant the government has struggled to cover bills for diesel generators and left the country facing a shortfall, Ugandan State Minister for Energy Simon D'ujanga said.
However, D'ujanga said, things are improving. Early this year a new hydroelectric power plant is set to come online.
"The future is bright, but for the time being we have to put up with this inconvenience," D'ujanga said.
Those improvements will take time, however, and with the end of the current grasshopper season approaching fast, Turyamugumya says he cannot wait that long for the power supply to get better.
"We are looking for other ways to make sure we have power," he said. "Me, I am already thinking of buying a big generator."
Comments will be moderated. Keep comments relevant to the article. Remarks containing abusive and obscene language, personal attacks of any kind or promotion will be removed and the user banned. Final decision will be at the discretion of the Taipei Times.