IT Month high-tech fair sees strong sales on Taipei leg
The annual IT Month — a major year-end consumer electronics bargain fair — finished its Taipei leg yesterday after attracting more than 900,000 visitors during its nine-day run, more than the 850,000 visitors it had last year, the event's organizer said in an e-mailed statement.
The annual event drew 250,000 visitors on the first weekend of the month, as consumers snatched up tablets, ultrabooks and digital cameras, said Candy Wang (王明玉), project manager of the Taipei Computer Association (TCA, 台北市電腦公會), which organized the event.
"Exhibitors this year have used limited-edition and pre-order strategies to drive up interest among consumers. They have seen strong sales [in the Taipei leg] despite concerns of product shortages [in the aftermath of Thailand's floods]," Wang said in the statement.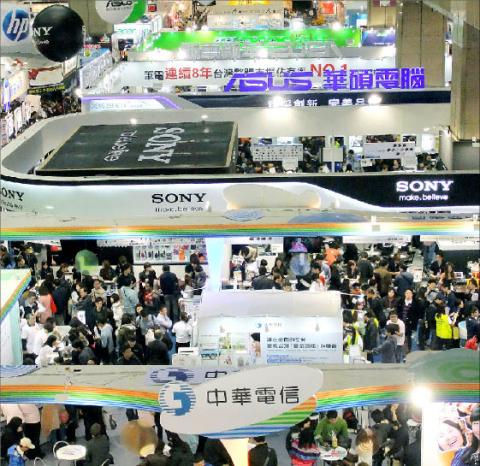 High-tech fans mill around the stands yesterday on the last day of the Taipei leg of this year's IT Month at the Taipei World Trade Center.
Photo: CNA
Ultrabooks, a new notebook category that is thinner, lighter and more affordable than ordinary laptops, were the best-selling items in IT Month's Taipei leg, while tablets remained hot products during the show, driven by Apple's iPad products.
Sales of digital cameras increased 30 percent from last year on strong replacement demand, while notebook sales rose between 15 and 20 percent from a year ago as consumers took advantage of about NT$5,000 discounts apiece offered by some brands, the TCA said in the statement.
Before the opening of the annual fair, exhibitors were worried about the strength of consumer purchasing power amid the uncertainties in the macroeconomic environment. However, the TCA said yesterday that the Taipei show indicated consumer spending remained strong as long as there are good bargains.
Among other top-selling items at the show, LED monitors of 24 inches or above in size and large-sized LCD TVs saw sales increase by about 20 percent this year from last year, the TCA said, while many vendors of GPS navigation devices were also upbeat, posting strong sales of between 3,000 and 5,000 units this time, it said.
IT Month will now travel south to Greater Taichung for a show between Friday and Dec. 21 and then to Greater Kaohsiung from Dec. 30 to Jan. 4, according to TCA.
Comments will be moderated. Keep comments relevant to the article. Remarks containing abusive and obscene language, personal attacks of any kind or promotion will be removed and the user banned. Final decision will be at the discretion of the Taipei Times.