'Steve Jobs' sets records for local publisher
Commonwealth Publishing Group, the exclusive Taiwanese publisher of Apple Inc co-founder Steve Jobs' biography, said yesterday — when the book first hit store shelves — that its publication has already set several records.
It was the first time in Commonwealth Publishing's three decades in business that it had signed a confidentiality agreement with an author from the early stages of copyright negotiations.
The agreement not only covered the company's management, editors, translators and marketing people, but also contractors such as printing houses, binderies and distributors.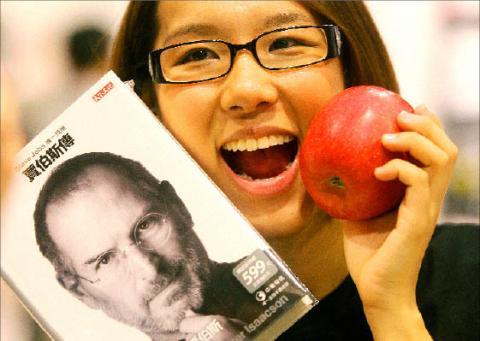 A woman holds an apple and a copy of Steve Jobs, a biography of the late Apple co-founder, at a bookstore in Taipei yesterday.
Photo: CNA
The publisher was also forced to use more contractors to produce the book than it had ever used on a project before, relying on 18 printing houses, binderies and others to meet the huge number of pre-orders. Local pre-orders of the Chinese edition have surged to 220,000 copies in the 19 days since Jobs' death on Oct. 5, the company said.
It usually takes a single printing house and bindery a year to produce 10,000 copies of a bestselling book.
"Since we obtained the rights to the Chinese-language edition in March this year, it has taken 110 days as well as the efforts of three translators and seven editors to publish the biography," Daisy Yu (余宜芳), deputy managing editor at Commonwealth Publishing, said at a press conference to introduce the new book. "But it's been worth it to see the result."
The company's first printing run of 220,000 copies is expected to sell out this week, and the book is expected to sell 300,000 copies in the first two months, Commonwealth marketing director Sherry Lee said.
The television commercial filmed for the book was also a first for Commonwealth Publishing. The production of the commercial was finished within 18 hours after Apple announced Jobs' death on Oct. 6, and it was to be aired last night, hours after the biography hit store shelves.
The Chinese-language version of Jobs' biography went on sale in Taiwan at 7am, with people lining up outside an Eslite (誠品) bookstore in Taipei at least an hour ahead of time.
The bookstore chain said it was offering free apples and apple-shaped notepaper at 12 of its outlets to the first 100 people who showed up yesterday dressed in black turtlenecks, Jobs' signature outfit.
Kingstone (金石堂), another leading bookstore chain in Taiwan, said its outlets also opened at 7am yesterday for the first time in three decades rather than the normal 10am.
The book, titled Steve Jobs, was written by Walter Isaacson based on more than 40 interviews with Jobs over a period of two years, as well as interviews with his family, friends and colleagues.
Comments will be moderated. Keep comments relevant to the article. Remarks containing abusive and obscene language, personal attacks of any kind or promotion will be removed and the user banned. Final decision will be at the discretion of the Taipei Times.