Greek debt write-down must be higher: Schaeuble
Greece's debt crisis cannot be solved without a debt write-down that will most likely exceed that agreed upon this summer, German Finance Minister Wolfgang Schaeuble said on Sunday, adding that he hoped Europe's banks would work with governments on a plan.
In July, European banks agreed to a voluntary writedown of 21 percent on their Greek debt.
Asked in an interview with broadcaster ARD whether there could be a Greek debt write-down of as much as 50 or 60 percent, Schaeuble said: "A lasting solution for Greece is not possible without a debt write-down, and this will likely have to be higher than that considered in the summer."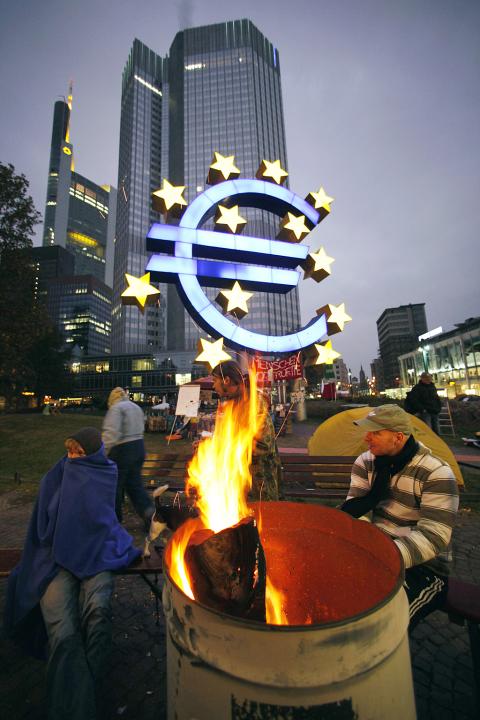 Demonstrators sit in their camp outside the headquarters of the European Central Bank in Frankfurt, Germany, yesterday.
Photo: Reuters
Germany and France have said they would present a crisis resolution plan in time for a summit of EU leaders in Brussels on Sunday.
"The details are being discussed now. They don't all have to be ready by the EU summit, but the principles must be clear," Schaeuble said.
"Of course we would like, if possible, to agree [on private sector participation] together with the banks," he said. "But it is clear there must be a level of participation which is enough to bring about a lasting solution for Greece. That is enormously difficult."
In a separate interview with broadcaster ZDF, Schaeuble reiterated the need for banks to be recapitalized to prevent an escalation of the crisis.
"We need better regulation and we also need a better capitalization of banks, which is what we are doing in the short-term. Not everyone will like it, but it is the best way to ensure that we don't have an escalation in the crisis due to a collapse in the banking system," he said.
"We must fight the danger of contagion. We simply have to recognize that banks don't trust each other at the moment, which is why the interbank market doesn't function as it should," he said.
"The best means to tackle this is better capitalization," he added.
Meanwhile, the IMF will release funds to Greece if the country's economic situation is clarified, IMF managing director Christine Lagarde said yesterday on Europe 1 radio.
Lagarde also said that the IMF currently has "adequate" resources to meet its needs. State support for banks should be a last resort, she added.
"I believe that today the IMF has adequate resources," Lagarde told Europe 1 radio after some member nations of the G20 meeting in Paris on Friday and Saturday called for increased resources for the world body.
The US said that an increase was unnecessary.
Asked what she considered an adequate level of resources for the IMF, Lagarde declined to give figures.
Comments will be moderated. Keep comments relevant to the article. Remarks containing abusive and obscene language, personal attacks of any kind or promotion will be removed and the user banned. Final decision will be at the discretion of the Taipei Times.