Enhance EU trade ties, ECCT urges
REMOVE OBSTACLES: The EU is the largest foreign investor in Taiwan, the trade group says, yet policy and taxation issues are hindering their full trade potential
The European Chamber of Commerce Taipei (ECCT) yesterday pressed Taiwan to make a greater effort to enhance trade ties with the EU, its fifth-largest trade partner, saying there is still room for improvement in government efficiency, policy consistency and taxation fairness.
The trade group, consisting of 400 companies with nearly US$30 billion (NT$909 billion) in direct foreign investments in Taiwan, said double-testing requirements and Taiwan-only standards continue to hinder the country's imports of electronic products, electric equipment, automobiles and pharmaceuticals from the EU.
"Taiwan's failure to adopt international standards, sign a free trade pact with the European Union and lift the import ban on some 2,100 products made in China are some of the obstacles that are preventing [the nation] from reaching its full growth potential," ECCT vice chairman Olivier Rousselet told a media briefing where the chamber's annual position paper was presented.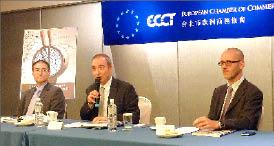 European Chamber of Commerce Taipei (ECCT) vice chairman Olivier Rousselet, center, and ECCT executive director Nathan Kaiser, right, attend a media briefing in Taipei yesterday where the chamber's annual position paper was released.
Photo: Lin Yi-chang, Taipei Times
Taiwan implements local safety regulations and requires additional tests on European products that have already passed the EU's standards for health, safety and quality, Rousselet said.
Taiwan also does not allow tests to be conducted by European test laboratories, forcing European suppliers to use local labs, he said.
This adds an unnecessary administrative burden and cost to suppliers and leads to the withdrawal of certain products from the market, Rousselet said.
"Accepting EU standards for all tests would remove these technical barriers, increase Taiwan's attractiveness as an investment destination and decrease costs for manufacturers and consumers," he said.
The EU held 31.5 percent of all foreign direct investment in Taiwan last year, making it the country's largest foreign investor ahead of the US and Japan, the report said, citing local trade bureau figures.
The trade group also urged Taiwan to step up efforts in securing a trade enhancement measure (TEM) with the EU to make bilateral products more competitive, which is the main benefit of similar pacts between the EU and South Korea, the report said.
In response, Council for Economic Planning and Development Minister Christina Liu (劉憶如) said Taiwan aims for closer trade ties with the EU, but a TEM may take some time to bear fruit because the EU is a large and diversified market.
"The government should take more aggressive steps to address this and other issues [raised by the ECCT]," she said.
Co-chairman of the European chamber's automotive committee Wolfram Wagner called on Taiwanese authorities to set a fixed foreign exchange rate annually for the importation of cars that are subject to a luxury tax, if their price exceeds the NT$3 million tax threshold.
Under the tax, exchange rate fluctuations become a decisive factor in whether the imported goods are taxable or not, implying unfair and uncertain market prices and fostering purchase disputes, Wagner said.
Comments will be moderated. Keep comments relevant to the article. Remarks containing abusive and obscene language, personal attacks of any kind or promotion will be removed and the user banned. Final decision will be at the discretion of the Taipei Times.