Firms to set up a Taiwan-Japan venture capital fund
JOINT VENTURE: The new fund is looking to invest in about 10 firms, to enhance cooperation in technology, research and development, production and marketing
Industrial Technology Investment Corp (ITIC, 創新工業技術移轉) yesterday announced it is planning to set up a venture capital fund with Mitsubishi UFJ Capital Co Ltd (MUCAP), one of Japan's largest venture capital firms, eyeing investment opportunities in both nations.
ITIC is a subsidiary of the state-funded Industrial Technology Research Institution (ITRI, 工業技術研究院).
"The fund aim is to increase cooperation between Taiwan and Japan in various sectors and industries by making investments, especially for Taiwan's six key emerging industries," ITIC president Herb Lin (林和源) told a media briefing.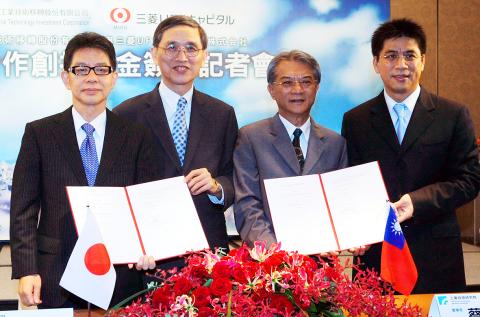 Left to right, Mitsubishi UFJ Capital Co Ltd president Yoshihiro Hashimoto, Minister of Economic Affairs Shih Yen-shiang, Industrial Technology Research Institute chairman Tsay Ching-yen and Industrial Technology Investment Corp president Herb Lin pose together yesterday after announcing plans to set up a venture capital fund and signing an agreement.
Photo: Wang Yi-sung, Taipei Times
The "Golden Asia Fund (台日創投基金)" is the first venture capital fund co-founded by Taiwan and Japan, with a preliminary investment of US$15 million, of which ITIC invested two-thirds and MUCAP invested the other third, Lin said.
The US$15 million fund is looking to invest in about 10 Taiwanese and Japanese companies, to enhance cooperation in technology, research and development (R&D), production and marketing, Lin said.
The operation of the fund is scheduled to begin by the end of the year and it may be expanded to US$100 million in the future so that it can help more companies, with energy, electric cars, electronic and material engineering, and agricultural, cultural and creative industries the main targets, he added.
COMPLEMENTARY
MUCAP president Yoshihiro Hashimoto said Japanese small and medium-sized enterprises (SME) are interested in cooperating with Taiwanese companies as the technology in Taiwan and Japan is highly complementary, which may make cooperation easier and mutually beneficial.
The technology in Japanese firms and the product management and globalization advantages of Taiwanese companies would make cooperation successful, Hashimoto added.
GLOBALIZATION
"Japanese SMEs have gradually realized the importance of globalization amid the slowing domestic economy and Taiwanese companies will be an important partner for them on that road," Hashimoto said.
Minister of Economic Affairs Shih Yen-shiang (施顏祥) said the fund reflected the positive effects of the signing of a Taiwan-Japan investment protection pact last month.
The ministry plans to establish a team to push for industrial cooperation between Taiwan and Japan, Shih said, adding that he would be the convener.
Comments will be moderated. Keep comments relevant to the article. Remarks containing abusive and obscene language, personal attacks of any kind or promotion will be removed and the user banned. Final decision will be at the discretion of the Taipei Times.