Armenia protects carpet-weaving traditions by going green
The smell of wool hangs thick in the air at a small studio in Armenia's ancient spiritual center of Echmiadzin as women fashion carpets by hand using methods passed down through generations.
People in Armenia, as in other Caucasus and Central Asian countries, have been making carpets since pre-Christian times.
Armenian designs are usually multicoloured and geometric, and sometimes bear symbols traditionally believed to have the power to ward off evil spirits.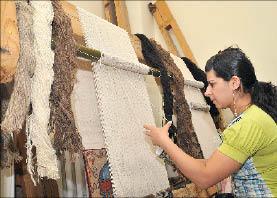 A woman weaves a carpet in a workshop in Echmiadzin, Armenia, on Sept. 9. People in Armenia, as in other Caucasus and Central Asian countries, have been making carpets since ancient times.
Photo: AFP
The Echmiadzin-based studio was set up as a charity project to employ impoverished women and refugees who fled neighboring Azerbaijan during the 1990s war between the ex-Soviet neighbors over the disputed region of Nagorny Karabakh.
However, it also has another major difference — it aims to use authentic traditional methods and tools, and to be environmentally friendly.
Wool for the rugs is processed without chemical dyes by elderly refugees in remote villages than sent to Echmiadzin to be woven into what one of charity project's leaders Grigor Babakhanian calls "eco-carpets."
"In order to produce ecologically pure carpets, we decided to confine ourselves to eight natural colors of sheep's wool and not to dye it," Babakhanian said.
"Our goal is to give work to elderly women who became refugees during the Karabakh war, to train young people in the art of carpet-making and to revive traditional carpet-making techniques," he said.
Dozens of refugees have already been trained in hand-weaving by Babakhanian's Cross of Armenian Unity charity foundation and it is hoped that sales of the rugs will help to finance other refugee programs.
Major Armenian manufacturing companies also produce carpets using traditional methods and designs, but the demand for handmade items has fallen in recent years because of their rising cost, with many consumers preferring cheaper machine-made rugs.
The authorities introduced tax breaks for handmade carpet manufacturers two years ago in an attempt to help sustain the industry.
"The development of carpet-making is of cultural and social significance for Armenia, rather than economic," said Hayk Mirzoian, an official at the country's economic ministry.
The carpets made by the women in Echmiadzin — a former capital that is still home to the head of Armenia's Christian church — are decorated with symbols derived from religious monuments and ancient manuscripts.
"Our carpets advocate the national culture and national traditions," Babakhanian said.
His brother, Gevorg, who creates the designs, said the use of pure materials and spiritual imagery means that the finished products are infused with "positive energy."
Although the concept of "eco-carpets" might be new in Armenia, time-honored carpet-making techniques are not dying out, suggests ethnographer Ashgunj Pogosian — although they remain in need of constant protection.
"The traditions of Armenian carpet-making must be preserved and handed on to future generations because they are part of our people's historical and cultural heritage, they are part of our national image, just like songs, the language and the alphabet," he said.
For Babakhanian, the uniqueness of the handmade work is also part of its appeal.
"Every carpet tells a different story," he said.
Comments will be moderated. Keep comments relevant to the article. Remarks containing abusive and obscene language, personal attacks of any kind or promotion will be removed and the user banned. Final decision will be at the discretion of the Taipei Times.