HTC-Beats deal welcomed by analysts
BRAND POWER SEARCH: HTC's purchase of headphone maker Beats demonstrates its preference for acquisition over licensing and is widely considered a good business move
Analysts yesterday gave the thumbs-up to HTC Corp's (宏達電) purchase of a majority stake in Beats Electronics LLC, saying this would give its brand the "youth" oomph factor it needed and allow it to reach the music-savvy crowd.
"Overall, this is an interesting deal from a brand building point of view ... This is indeed a well thought-out acquisition in synergy," JPMorgan analysts Alvin Kwock (郭彥麟) and Ashish Gupta said in a report issued yesterday.
"HTC has been largely regarded as a 'tech geek brand' and -apparently Beats touches the hearts of youngsters aged 18 to 35, thanks to cheap viral marketing by Hollywood or sports stars," they said.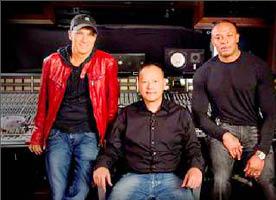 HTC chief executive officer Peter Chou, center, Interscope chairman Jimmy Iovine, left, and music producer Dr Dre pose for a photograph yesterday after it was announced that HTC had purchased a majority stake in Beats Electronics LLC.
Photo: CNA
Brand power is becoming increasingly important as commoditization is inevitable over the longer term, and that explains why HTC has opted for acquisition over licensing, according to the report.
HTC announced on Thursday it planned to pay about US$309 million for a 51 percent stake in Beats Electronics, a US venture involving superstar music producer Dr Dre, Interscope Records and Interscope chairman Jimmy Iovine.
Bank of America Merrill Lynch was also positive about the investment.
The acquisition will help HTC deliver a studio-quality audio experience, broaden its audience base and aid its transition from a technology brand to a lifestyle brand, Merrill Lynch analyst Robert Cheng (鄭勝榮) said in a report.
Founded by Jimmy Iovine and Dr Dre in 2006, Beats is one of the top three high-end stereo headset makers.
Among the selling points for the headphones, which cost US$150 to US$300, is that they supposedly offer sound superior to the white "earbuds" that come with Apple Inc's iPods and iPhones.
According to Merrill Lynch, Beats posted sales growth of 300 percent last year and 280 percent during the first half of this year.
The average selling price for Beats headsets increased from US$183 last year to US$193 now, it added.
"In terms of sales or profit contribution, we don't believe Beats can really bring significant impact. However, if HTC can successfully build the Beats user-experience into HTC phones and sustain (or increase) its ASP [average selling price], it would come as long-tail impact," Cheng said.
Shares of HTC dropped 3.03 percent to close at NT$800 on the Taiwan Stock Exchange yesterday.
Comments will be moderated. Keep comments relevant to the article. Remarks containing abusive and obscene language, personal attacks of any kind or promotion will be removed and the user banned. Final decision will be at the discretion of the Taipei Times.