UBS profit slumps by almost half in Q2
TOUGH TIMES: Another banking giant, Deutsche Bank, also reported disappointing second-quarter earnings, as Europe's debt crisis affected its stock-trading business
UBS AG, Switzerland's largest bank, yesterday said it was unlikely to meet its long-term profit target and announced fresh job cuts after posting a sharply diminished second-quarter net profit of 1.02 billion Swiss francs (US$1.2 billion).
The bank said net profit attributable to shareholders fell almost 50 percent from SF2 billion in the April-to-June period last year. This was more than the 30 percent drop analysts had predicted.
"Banks' returns have declined overall in the last 12 months, reflecting deleveraging and the actions being taken in advance of increased capital requirements," chief executive Oswald Gruebel said in a statement.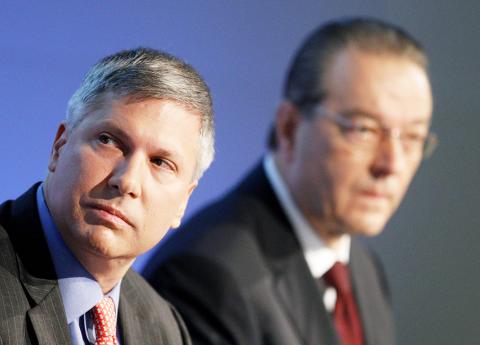 UBS chief executive Oswald Gruebel, right, and chief financial officer Tom Naratil attend their company's second-quarter results news consference in Zurich yesterday.
Photo: Reuters
He said the bank would not be able to achieve the target it set for itself in 2009, shortly after Gruebel came into office. At the time, the bank said it would aim for a pretax profit of SF15 billion a year by 2014.
The bank declined to say how many staff would lose their jobs in the cost-cutting exercise that aims to save SF1.5 billion to SF2 billion over the next two to three years. However, it did indicate that it would book "significant restructuring charges later this year."
Media reports in Switzerland have been for 5,000 job losses at the bank, which currently employs about 65,000 people worldwide.
UBS chief financial officer Tom Naratil warned that market conditions would continue to be difficult in the coming months.
"The current economic uncertainty ... shows little sign of abating and we believe it will have effects on the broader banking industry," he told reporters.
"We don't envisage material improvements in market conditions in the third quarter of 2011, given the usual seasonal decline in trading activity," he said.
Credit Suisse Group AG, the second-biggest Swiss bank, will likely announce cost savings measures, including a cut of 1,500 to 2,000 jobs, a Swiss paper reported yesterday, without naming any sources.
The Neue Zuercher Zeitung (NZZ) said Credit Suisse would probably make the announcement tomorrow, when it posts its quarterly results.
Swiss newspaper Handelszeitung, citing unnamed sources, reported on June 15 that Credit Suisse was set to cut several hundred investment banking jobs, particularly in the US, but also in Switzerland, because of sluggish client activity.
A spokesman for Credit Suisse declined to comment on the NZZ report.
In Frankfurt, Deutsche Bank's second-quarter earnings fell short of market expectations as Europe's debt crisis affected its stock-trading business.
The biggest German bank said yesterday that its net income rose only 6 percent from a year ago to 1.23 billion euros (US$1.79 billion), down 42 percent from the previous quarter's 2.13 billion euros.
Diluted earnings per share of 1.24 euros per share were below the consensus prediction of 1.35 euros per share.
The company blamed difficult conditions stemming from the government debt crisis in Europe. In particular, its stock-trading business was affected, though other businesses, such as branch banking, fared better.
Overall second-quarter revenues reached only 8.54 billion euros, shy of expectations of 8.79 billion euros.
The bank said on Monday night that CEO Josef Ackermann would be replaced next year by co-CEOs Anshu Jain, the Indian-born head of its investment bank division, and Juergen Fitschen, currently Deutsche Bank's head of regional management.
Deutsche Bank said its plans call for Ackermann to become the chairman of its supervisory board, the German equivalent of a board of directors, "so that the bank will continue to profit from his knowledge, experience and professional network."
Comments will be moderated. Keep comments relevant to the article. Remarks containing abusive and obscene language, personal attacks of any kind or promotion will be removed and the user banned. Final decision will be at the discretion of the Taipei Times.