Toy helicopters developed as search-and-rescue tool
A research team at a Taipei City university is trying to turn a toy into a tool for search and rescue missions.
Hsu Chau-yun (許超雲), professor at Tatung University's Graduate Institute of Communication Engineering, said yesterday his team has successfully developed software that enables WiMAX Android tablets and phones to operate as remote controls for -remote--controlled (RC) helicopters.
Hsu said the WiMAX remote controller extends the controlling range of the old Wi-Fi model and enables RC helicopters to maneuver into disaster areas that are beyond the reach of rescue personnel.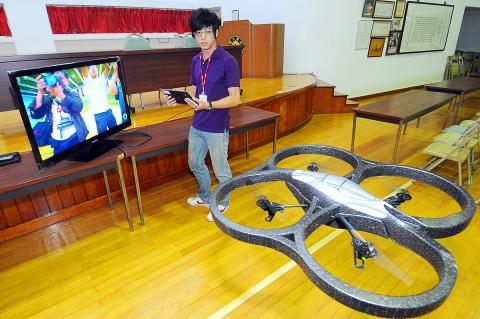 A student from Tatung University demonstrates the software a team from his university developed that enables WiMAX-enabled Android tablets and phones to operate a remote-controlled helicopter yesterday.
Photo: Wang Min-wei, Taipei Times
For instance, with video cameras installed on RC helicopters, rescue workers can monitor the situation inside a high-rise building engulfed in flames, or reach deeper into earthquake-stricken zones, Hsu added.
The university said it would first utilize the system for campus patrol purposes. Security officers on campus will be able to monitor school grounds from the comfort of their chairs.
Comments will be moderated. Keep comments relevant to the article. Remarks containing abusive and obscene language, personal attacks of any kind or promotion will be removed and the user banned. Final decision will be at the discretion of the Taipei Times.