S&P warns Greece of default threat
EUROZONE CRISIS: The agency's warning adds to Greece's woes, as it was already in an uphill struggle to sell off assets and reform its tax system to meet bailout conditions
Greece would likely be in default if it follows a debt rollover plan pushed by French banks, Standard & Poor's (S&P) warned yesterday, deepening the pain of a bailout that one European official said will cost Athens sovereignty and jobs.
European politicians and bankers had expressed confidence last week that the French proposal would not trigger a default, but ratings agency Standard & Poor's said it would involve losses to debt holders, most likely earning Greece a "selective default" rating.
"It is our view that each of the two financing options described in the [French banks'] proposal would likely amount to a default under our criteria," S&P said.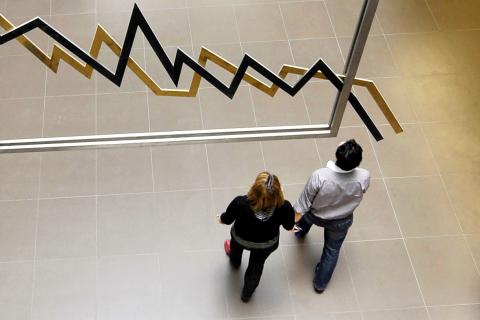 Employees walk in the Athens stock exchange on April 28 last year. Standard & Poor's fired a warning shot over Greek debt yesterday, saying that proposals for a payment holiday under a new rescue could trigger partial default.
Photo: AFP
French banks, major holders of Greek sovereign debt, proposed voluntarily renewing some of the bonds when they fall due, but on different terms.
S&P cut Greece's sovereign rating to "CCC" last month, from "B," on a view that any restructuring of the country's massive debt load would count as an effective default.
The euro fell from around US$1.4550 to a session low of about US$1.4510 after the latest S&P comment.
Greece was already facing an uphill struggle this week to start the process of selling off state-owned assets and reform its tax system to meet EU and IMF conditions for bailing it out. The deep spending cuts required under the loan terms have sparked angry protests on the streets of Athens.
Greece last week passed austerity measures worth 28 billion euros (US$40 billion) and promised to deliver 50 billion euros in sell-off revenues by 2015, including raising 5 billion euros by the end of this year alone. On the list are public utilities whose sale is sure to prompt public reaction.
At the same time, Greece needs to deliver on pledges to reform a chronically inefficient tax system that has relied too much on middle class salary earners and let wealthy tax evaders off the hook, producing disappointing revenues this year.
The county's finance ministry did not have any immediate comment on S&P's statement that Greece would likely be in default if it follows a debt rollover plan pushed by French banks.
The government's next steps will seek to halt the economic downturn and help the economy return to growth, the ministry said yesterday.
"The initiatives that must be undertaken in the coming days and weeks have as an only goal to resurrect the economy, halt recession and return [the economy] to growth for the benefit of all citizens and mainly the unemployed and weak income groups," Greek Finance Minister Evangelos Venizelos said in a statement.
His comments came after a report in the Eleftherotypia newspaper said that a barrage of new measures were in store based on an updated memorandum agreed with the country's international lenders on Saturday.
On Saturday, eurozone finance ministers approved a 12 billion euro loan Greece needs to avert default.
The IMF will meet on Friday to approve the 12 billion euro loan tranche, which is expected to be handed over by July 15 and allow Greece to avoid the immediate threat of debt default.
However, the country still needs the second rescue package, which is also expected to total about 110 billion euros. EU officials will now look at how private creditors can be involved voluntarily so that rating agencies do not declare the rescue a "credit event."
Comments will be moderated. Keep comments relevant to the article. Remarks containing abusive and obscene language, personal attacks of any kind or promotion will be removed and the user banned. Final decision will be at the discretion of the Taipei Times.