Notebook price hike likely amid shortage of components: Acer
PC brand Acer Inc (宏碁) yesterday said it would likely raise prices for laptop computers in the second half of the year if a squeeze on component supplies from Japanese manufacturers continues.
Current inventories of -Japanese-made components could last until the end of next month, Acer president for Taiwan operations Scott Lin (林顯郎) told reporters on the sidelines of a product launch.
Acer possesses a month's supply of notebooks and retailers such as Tsann Kuen Enterprise Co (燦坤實業) have another month's supply. Contract manufacturers such as Compal Electronics Inc (仁寶) and Quanta Computer Inc (廣達) have two to three more weeks of stock, which means Acer's inventory would last until about the end of next month, he said.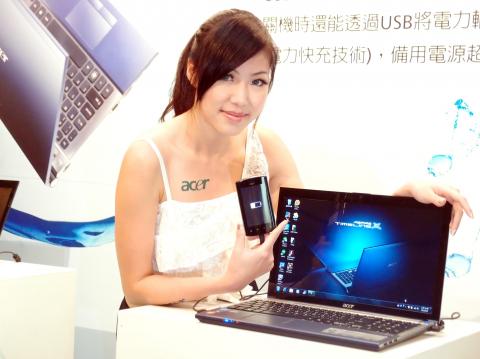 A model displays one of the latest laptops in the Acer Aspire TimelineX series at a product launch in Taipei yesterday.
Photo: Chen Ping-hung, Taipei Times
With stocks expected to run low in June, a price rise is possible because of a shortage in components from Japanese manufacturers, which are still reeling from the effects of the March 11 earthquake and tsunami.
Even though some Japanese facilities have resumed production to a certain extent, they might not be able to fully cope with demand, Lin said.
In anticipation of a possible price adjustment, consumers at a computer fair in Kaohsiung snapped up the latest Acer notebooks from last Thursday to Monday, causing a three-fold rise in the company's sales, he said. Another company fair commences in Taipei today at the Taipei World Trade Center's Hall 1 and ends on Monday.
Acer is also upbeat on sales of its first tablet device — Iconia Tab — launched last week in Taiwan. The company has sold 1,000 tablets so far and a telecoms operator has placed an order for 4,000 units, Lin said.
"The tablet war has begun. It isn't Acer's and Asustek Computer's (華碩) battle against Apple. It's the Google-led camp confronting Apple," Lin said.
He acknowledged Apple's dominance in the tablet market, but said other makers stood a chance of seizing market share by using Google Inc's Android platform.
"The more you limit the users, the more problems will arise," the Acer president said.
The so-called open platform means that Acer tablets offer USB ports for users to share files, as well as Flash support for Web page views — features missing from Apple's iPad, Lin said.
Comments will be moderated. Keep comments relevant to the article. Remarks containing abusive and obscene language, personal attacks of any kind or promotion will be removed and the user banned. Final decision will be at the discretion of the Taipei Times.