Toyota to curb N America production
WATCHING, WAITING: It will also take Nissan until the middle of next month to resume major production at its plant in Iwaki, Fukushima Prefecture, its CEO said
Toyota Motor Corp, the world's biggest automaker, said yesterday it expects to halt production at some of its factories in North America due to shortages of parts from Japan following a devastating earthquake.
In a statement released in New York, Toyota said it was unclear which North American facilities will be affected or how long. It gave no indication how many employees might be affected.
The company said the impact should be limited because a majority of parts used by its North American factories came from suppliers there. It said the facilities are still receiving parts from Japan that were sent before the quake.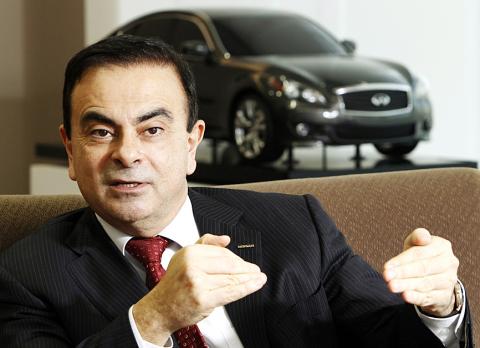 Nissan CEO Carlos Ghosn speaks during an interview at his office inside the Nissan headquarters in Yokohama, Japan on Feb. 25.
Photo: Reuters
"Today, we communicated to team members, associates and dealers here that some production interruptions in North America are likely," the Toyota statement said. "It's too early to predict location or duration."
Toyota, maker of the Prius hybrid and Lexus luxury models, resumed production of repair parts last week but says the shutdown of its 11 auto factories in Japan will last at least until tomorrow. It has lost production of about 140,000 vehicles since March 14.
Rival Honda Motor Co says suspension of production at its Saitama and Suzuka auto factories and a motorcycle plant in Kumamoto will last through Sunday.
Nissan CEO Carlos Ghosn said about 40 auto-parts makers remain hampered after the quake.
Electronic components, plastics and rubber are in short supply and will affect Japanese automakers and rivals outside the country, Ghosn said.
"This is serious and it's still difficult to evaluate," he said on Wednesday. "You have the earthquake, you have the tsunami, rolling blackouts, and fuel shortages hitting at the same time, and they aren't only hitting the car manufacturers, but also the suppliers and the dealers."
Nissan continues to run plants in the US and Mexico on normal schedules, said Brian Brockman, a company spokesman. The company is conducting a "feasibility study" on shipping some engines built in Tennessee to Japan to resupply operations there, he said.
Japanese automakers including Nissan will probably have a "tough" time during the quarter beginning April 1, Ghosn said. The financial impact from the plant closures will be minimal in the fiscal year ending March 31, he said.
It will take Nissan until the middle of next month to resume major production at its plant in Iwaki, Fukushima Prefecture, Ghosn said. The firm's other Japanese production sites are now operating and undamaged, he said.
"I can tell you that we have a pretty good assessment of the situation of the company itself," Ghosn said. "We are getting more confident every day."
Ghosn said the firm has no plans to shift production to other countries. Nissan is planning to build more than 1 million cars in Japan and "this will not change," he said.
In the US, General Motors Co (GM) halted some production at an engine plant in Buffalo, New York, and temporarily laid off 59 of its 623 workers because of disruptions in manufacturing elsewhere.
The Buffalo facility supplies engines for compact pickups assembled in Shreveport, Louisiana. GM shut down the Shreveport factory because of a shortage of parts from Japan.
Comments will be moderated. Keep comments relevant to the article. Remarks containing abusive and obscene language, personal attacks of any kind or promotion will be removed and the user banned. Final decision will be at the discretion of the Taipei Times.