Portuguese youth take to streets in protest
Portugal's disgruntled Facebook generation, inspired by a pop song, marched in a dozen cities to vent its frustration at grim career prospects amid an acute economic crisis that shows no sign of abating.
About 30,000 people, mostly in their 20s and 30s, crammed into Lisbon's main downtown avenue on Saturday, called onto the streets by a social media campaign that harnessed a broad sense of disaffection. Local media reported thousands more attended simultaneous protests in 10 other cities nationwide.
A banner at the front of the Lisbon march said: "Our country is in dire straits." Another said: "We are the future."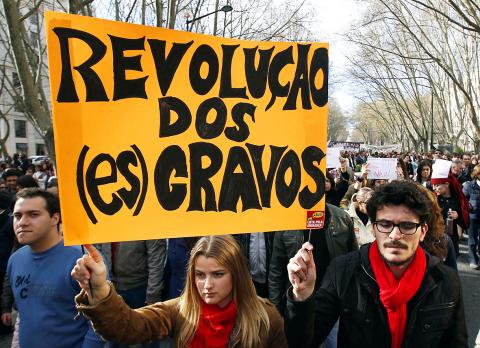 A demonstrator holds a banner saying "Slave/carnation Revolution" during the Geracao a Rasca protest on Lisbon`s main avenue of Liberdade on Saturday. The demonstration is a civil initiative by young adults looking for jobs consistent with their qualifications. The protesters also demanded job security.
Photo: Reuters
The Lisbon march was festive and raucous, featuring brass bands, drum combos and small children with balloons. -Middle-aged parents also turned out.
Portugal, western Europe's poorest country, is producing the best-qualified generation in its history, thanks to big investments in education, but after a decade of feeble economic growth and a huge debt burden that has forced the government to enact crippling austerity measures, Portugal's economy is unable to deliver the opportunities that trained young people are seeking.
The jobless rate stands at a record 11.2 percent and half the unemployed are under 35. In the third quarter of last year, 68,500 college graduates were idle — a 6.5 percent increase on the same quarter the previous year, according to the National Statistics Institute.
Like Greece and Ireland, other debt-heavy European countries, analysts say Portugal is on the verge of needing an international bailout that would prevent its financial collapse, but doom it to more years of recession.
"People's well-being has taken second place to financial matters," said Luis Santos, a 28-year-old out of work since graduating from Lisbon University three years ago.
Most of his old college friends also are finding it hard to get on the career ladder.
"It's hard to come across anyone who's happy about their prospects," he said.
Portugal's youth isn't just angry at unemployment, but at "underemployment" — low paid, dead-end jobs beneath their levels of qualification — which leaves them stuck at home with their parents into their 30s.
Goncalo Montenegro, 45, was at the Lisbon march with his 14-year-old son. He works as a salesman, but said he is worried about his son's future.
"We're passing on this mess and our debt to the next generation. We have to find a different path," he said.
Four college graduates in their 20s were inspired to organize the unprecedented protests after a pop song struck a chord with their despairing generation.
The song, called What a Fool I am by Portuguese band Deolinda, was an unexpected hit in January, even though it had yet to be released. An amateur video of a concert performance of the song posted on YouTube went viral as it set a generation's simmering grievances to music.
The song's lyrics, including the lines: "I can't go on like this, this situation's dragged on for too long," built into a battle cry.
Joao Labrincha, a 27-year-old unemployed graduate from Coimbra University, said he and three friends took a spontaneous decision to organize the marches after seeing the video.
"We realized that lots of people are unhappy. It wasn't just us," Labrincha said.
Within weeks, thousands had signed up to their Facebook page and commented on their blog.
The protest's manifesto said it wasn't targeting the country's embattled government, though many banners at the Lisbon march chided politicians. The demonstration's aim was to make people aware they have to pull together to change the course of the country.
"We are protesting so that all those to blame for our current uncertainty — politicians, employers and even ourselves — might unite and quickly change this situation, which has become intolerable," the manifesto said.
After contracting in 2009, Portugal is forecast to record a double-dip recession this year.
The country's current -economic plight stems from Portugal's inability to generate wealth while amassing massive public and private debt to finance its western European lifestyle.
Comments will be moderated. Keep comments relevant to the article. Remarks containing abusive and obscene language, personal attacks of any kind or promotion will be removed and the user banned. Final decision will be at the discretion of the Taipei Times.