HTC inks agreement with US' Verizon for LTE network phone
HTC Corp (宏達電) and US telecoms operator Verizon Wireless Inc on Thursday formalized their partnership to sell the world's first smartphone that utilizes the high-speed long-term evolution (LTE) network in the US.
The two companies signed a contract finalizing the deal that will see Verizon, the largest telecoms operator in the US with one-third of the country's wireless subscribers, sell the HTC Thunderbolt to complement the LTE network Verizon launched last month.
The deal was inked at the annual Consumer Electronics Show in Las Vegas, Nevada, where HTC also unveiled two other partnerships for new smartphones that will cater to other networks.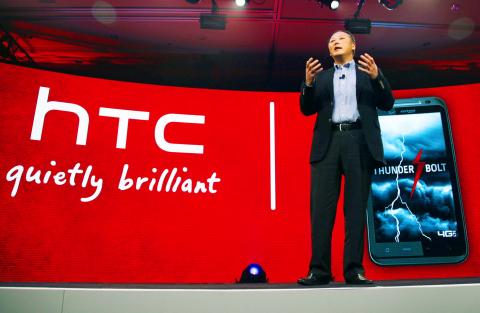 HTC chief executive officer Peter Chou speaks about the new HTC 4G "Thunderbolt" phone at a Verizon news conference on the opening day of the Consumer Electronics Show in Las Vegas on Thursday.
PHOTO: RICK WILKING , REUTERS
Its HTC Inspire 4G will be sold by AT&T Inc, the second-largest US telecoms operator, to meet consumer demand for its HSPA+ network, while the HTC EVO Shift 4G will be sold by Sprint Nextel Corp, the US' No. 3 telecoms firm, for WiMAX network users.
"We offer a diverse portfolio of devices that are designed to not only perform at 4G wireless speeds, but to fit the needs of consumers who are looking for large-screen or Qwerty devices," HTC chief executive officer Peter Chou (周永明) said in a statement.
The HTC Thunderbolt, with a 4.3-inch touchscreen display and Google Inc's Android 2.2 operating system, allows users to transfer digital content to other home devices, such as televisions or personal computers, that are compatible with the same standard of mobile communications.
Worldwide mobile phone sales totaled 417 million units in the third quarter of last year, a 35 percent increase from a year earlier, according to market research firm Gartner Inc.
Smartphone sales have grown 96 percent from the third quarter of 2009 and they accounted for 19.3 percent of overall mobile phone sales in the third quarter of last year.
Android equipped smartphones accounted for 25.5 percent of worldwide sales during the same period, mostly in North America, making it the No. 2 operating system behind the 36.6 percent market share of Nokia Corp's Symbian, Gartner said.
In other news, HTC plans to invest US$500,000 to set up a research and development company in China through its unit High Tech Computer Asia Pacific Pte, the company said in an exchange statement yesterday.
Additional reporting by Bloomberg
Comments will be moderated. Keep comments relevant to the article. Remarks containing abusive and obscene language, personal attacks of any kind or promotion will be removed and the user banned. Final decision will be at the discretion of the Taipei Times.