Researchers unveil new e-paper
A local research team yesterday unveiled a new technology that represents not only a breakthrough in the application for flexible electronic paper (e-paper), but also allows animation displays on e-paper.
The active matrix electrophoretic display (EPD) controller chip, researched and developed by National Taiwan Normal University's System-On-Chip (SoC) Lab, led by professor Kao Wen-chung (高文忠), helps produce improved e-paper that can be bent and folded and is easily portable, Kao said at a press conference.
The EPD controller chip also enables animation to be displayed in electronic books, said Kao.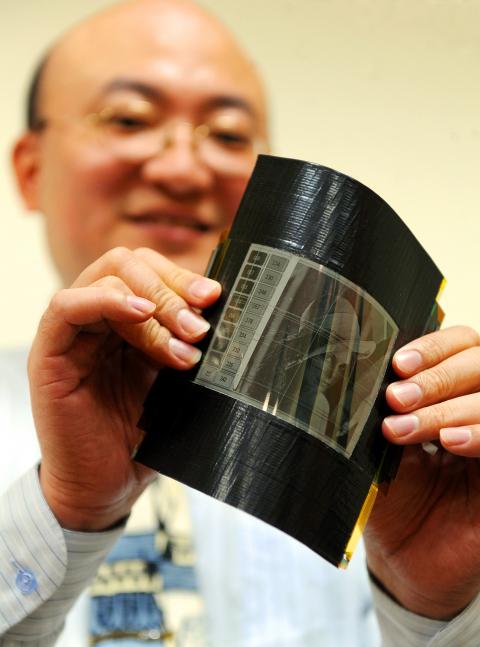 Kao Wen-chung, chair of National Taiwan Normal University's Department of Applied Electronics Technology, yesterday demonstrates in Taipei the flexible e-paper that his research team developed in collaboration with industry partners.
PHOTO: LIAO CHEN-HUEI, TAIPEI TIMES
The chip, equipped with a real-time image processing engine, widens the applications for e--paper and allows moving pictures to be viewed on items, such as electronic tickets, electronic menus or other places where information displays are needed — shades of the magic moving photographs that appear in the Harry Potter movies.
The new technology overcomes problems faced by normal e-paper — images displayed poorly under high temperatures and at high speed — according to Kao.
Amazon.com Inc's e-book, the Kindle, uses hard materials for its display and is unable to display animations, Kao added.
Apple Inc's iPad, meanwhile, which uses a TFT-LCD display, requires backlighting and prolonged use can hurt or even damage the eyes, he said.
The EPD controller chip is able to intensify image contrast and -increase color sharpness — up from 16 gray levels to 256 gray levels on the e-paper display — making reading on e-paper equipped with the chip more comfortable, even for long periods.
Kao's lab is scheduled to unveil the technology in the US next month and an application for patent right is expected to be filed shortly afterward.
However, mass production of the new e-paper will not be possible for a further four to six years, according to Kao.
Comments will be moderated. Keep comments relevant to the article. Remarks containing abusive and obscene language, personal attacks of any kind or promotion will be removed and the user banned. Final decision will be at the discretion of the Taipei Times.