China to restrict Internet phone services
WEB CRACKDOWN: PC-to-phone services provided by firms such as Skype, which are popular in China because of their low rates, could be banned under new rules
China has pledged to restrict Internet phone services — a move that could affect thousands of businesses and individuals making cheap calls via Web-based communications companies such as Skype.
"We are carrying out with relevant authorities a campaign to crack down on illegal Voice over Internet Protocol phone services," the Ministry of Industry and Information Technology said in a circular posted online earlier this month.
In the brief notice, which did not offer details on the crackdown or a timetable for shutting down "illegal" services, the ministry listed a telephone hotline for citizens to report any violations. The ministry declined to comment immediately when asked for clarification of the policy yesterday.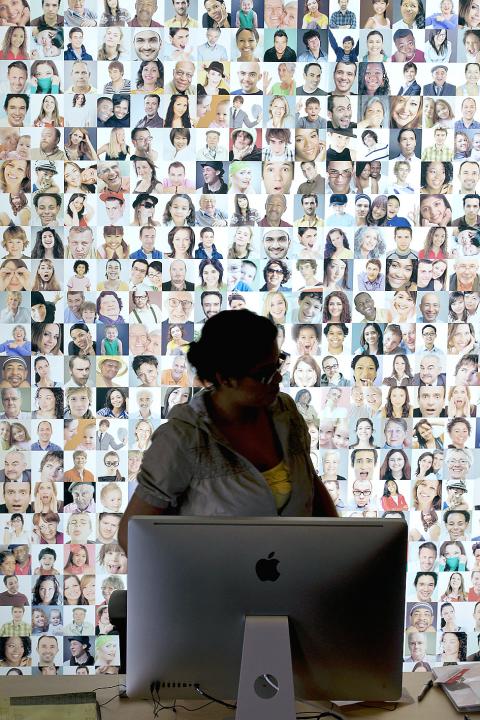 A receptionist works in the lobby of Skype Technologies SA in front of a wall of photos showing Skype users in Palo Alto, California, on Dec. 20.
PHOTO: BLOOMBERG
However, the Beijing Morning Post yesterday quoted Industry and Information Technology Vice Minister Xi Guohua (奚國華) as saying only state-owned major Chinese telecommunications operators were licensed to provide Internet phone services linking telephones and computers.
Communications between computers (PC-to-PC) are open to all service providers, Xi said.
That means some PC-to-phone services provided by firms including Skype, which are popular in China because of their low rates when compared with the country's major telecoms firms, could be banned under the ministry's new rules.
For example, Skype users pay just 0.19 yuan (US$0.03) per minute to call a landline number in the US, while the same call on China Unicom would cost at least 2.4 yuan per minute.
UUCall, a homegrown Skype-like service which calls itself "the first Chinese Internet phone brand," was shut down in October last year on suspicion of operating illegal Web phone services, the report said.
It resumed business in February after moving its domain name to Hong Kong, it added.
Critics have said the government move was meant to protect state-owned Chinese telecoms operators, according to various domestic media reports.
Other reports said it may be aimed at stemming rampant phone scams under which thieves use Web-based phone services to defraud consumers, changing the call origin number to pose as bankers, police or government officials.
Officials at Skype, which has more than 500 million users worldwide, were not immediately available to comment on the issue.
Comments will be moderated. Keep comments relevant to the article. Remarks containing abusive and obscene language, personal attacks of any kind or promotion will be removed and the user banned. Final decision will be at the discretion of the Taipei Times.