Technology aims to boost businesses
XtraLab Design Co (爻域互動科技設), a Taiwan-based design company, formally opened an art gallery yesterday to showcase new interactive technology that it says will create innovative art forms and make it easier to operate businesses.
One application on display was an iPad restaurant menu in the gallery's coffee shop, a feature XtraLab believes will bring people closer to commercial products or works of art.
XtraLab's iPad application allows customers to preview orders with pictures or written introductions on the tablet computer.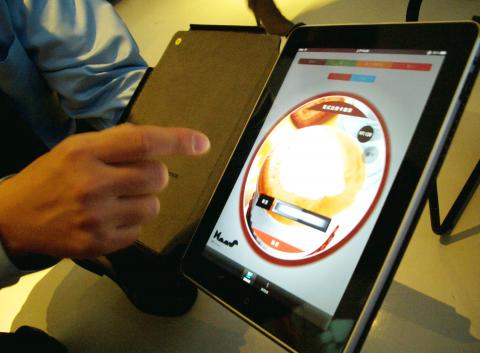 A customer at the coffee shop in a Taipei gallery opened by XtraLab Design points to an iPad menu yesterday.
Photo: CNA
"We hope that the iPad application will attract people to visit our gallery to experience other interactive devices that combine different fields of art," XtraLab general manager Frankie Fan (范赫鑠) said.
Another example of the technology is a "water table" that produces virtual creations similar to traditional Chinese ink paintings. A projector creates images in water, guided by an infrared sensor that detects hand movements as people touch the water's surface.
The company is scheduled to demonstrate the digitized art in an exhibition opening at the Taipei Fine Arts Museum on Saturday.
Another infrared technology on display at the gallery transforms a song into animation in response to gestures or movements.
"Taiwan has better opportunities in the sector because it is good at integrating technologies and talent," Fan said. "We hope this place is not only a gallery or a coffee shop, but also a laboratory or exchange platform to explore new digital art concepts in Taiwan."
Comments will be moderated. Keep comments relevant to the article. Remarks containing abusive and obscene language, personal attacks of any kind or promotion will be removed and the user banned. Final decision will be at the discretion of the Taipei Times.