Gamania Digital, InterServ team up for new game
ONLINE Gamania expects the MMORPG game title developed by InterServ, 'The Legend of Xuan Wu,' to attract at least 30,000 gamers at the same time
Gamania Digital Entertainment Co (遊戲橘子), a leading online game developer and publisher, yesterday joined forces with the smaller InterServ International Inc (昱泉國際) to launch a new game title that is expected to generate monthly revenues of more than NT$30 million (US$1 million) starting next month.
Gamania is distributing the game developed by InterServ by paying the latter royalties, but both parties refused to reveal the sum at the press conference yesterday.
VIRTUAL WORLD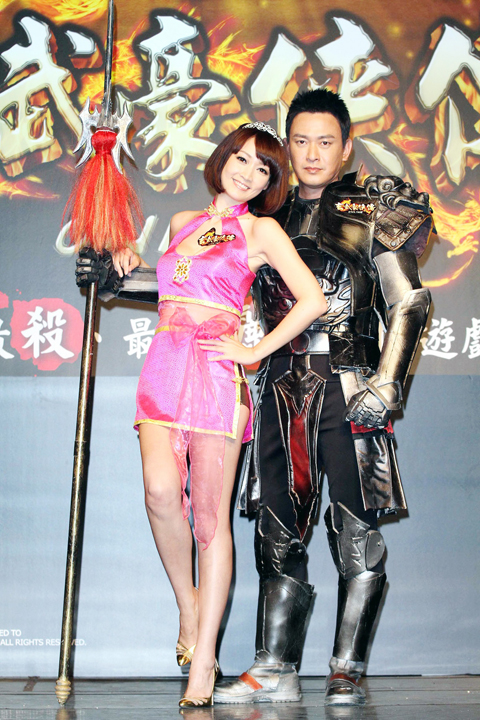 Celebrities Ada Pan, left, and Jason Wong pose together in fantasy costumes at a press conference to promote Gamania Digital and Interserv International's new computer game in Taipei yesterday.
PHOTO: CHEN HUI-CHEN, TAIPEI TIMES
"The Legend of Xuan Wu (玄武豪俠傳), debuting in Taiwan today, may attract at least 30,000 gamers to interact with one another in the virtual world at a single time," Gamania chairman and CEO Albert Liu (劉柏園) said.
The Legend of Xuan Wu, a massively multi-player online role-playing game (MMORPG), is the first non-self-developed game title that Gamania is distributing this year.
The company launched three game titles in 2008, marking its first foray into the self-developed title market, but was rather quiet last year without any releases.
MMORPG is a genre of computer role-playing games in which a very large number of players interact with one another in a virtual game world.
InterServ has injected more than NT$200 million into developing the game and it hopes to utilize Gamania's marketing know-how in game promotion, InterServ managing director Sheree Tsao (曹約文) said.
OFFERS
"Other companies offered us higher royalties, but we decided to go with Gamania. We are tailoring the game based on Gamania's advice after they conducted studies on gamers' initial feedback," she said.
Like other Taiwanese peers, InterServ has been developing games for other overseas companies in the past and decided to release its own titles after seeing the booming online gaming markets in Taiwan and China.
Profits from sales of own titles are higher and devising games that meet gamers' demands are critical to winning "the hearts of players," both executives said.
InterServ is expected to launch a second title, M2, in Japan in June, and plans to bring The Legend of Xuan Wu to China and Japan by the end of the year.
Gamania expects strong business momentum this year, with plans to launch five to seven self-developed titles this year.
FILM-BASED
The company has invested in the upcoming Mandarin martial arts movie Reign of Assassins (劍雨江湖), starring Michelle Yeoh (楊紫瓊) and South Korean star Jung Woo-sung, acquiring the rights to design a game based on the movie, which will debut in the Greater China region in the fourth quarter.
Comments will be moderated. Keep comments relevant to the article. Remarks containing abusive and obscene language, personal attacks of any kind or promotion will be removed and the user banned. Final decision will be at the discretion of the Taipei Times.