Boeing urges government help with trade barriers
Boeing Co chief executive officer Jim McNerney said the US government should work on breaking down global trade barriers to help US businesses compete and hire more workers.
"We all benefit from more trade," McNerney said during a forum at the Hilton Chicago sponsored by Northwestern University's Kellogg School of Management.
Boeing cut 9,300 jobs last year and the company yesterday told more than 1,000 employees that their positions would be terminated as of April 23. The number of Americans filing first-time claims for unemployment insurance unexpectedly increased last week, pointing to an uneven recovery in the labor market.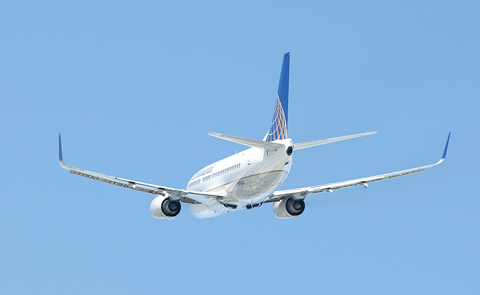 A Continental Airlines Inc Boeing 737 jet takes off at Ronald Reagan National Airport in Arlington, Virginia, on Friday.
PHOTO: BLOOMBERG
McNerney, who attended a jobs summit at the White House in December, said any jobs plan should focus on education, taxes and trade policy. He urged US President Barack Obama to lock down trade agreements with South Korea, Panama and Colombia as US competitors move forward with their own pacts.
"We need the government's help to both break down trade barriers and enforce international agreements," he said.
McNerney also emphasized the importance of innovation and education to US companies operating in the global marketplace. Chicago-based Boeing employs almost 160,000 people and some of the jobs wouldn't exist if the company wasn't internationally competitive, he said.
"We are a high-tech exporter," he said.
McNerney said Boeing must continue to focus on innovation and productivity to stay ahead of Chinese competition. China is the world's fastest-growing air-travel market and the 168-seat C919, built by a state-controlled company, is expected to make its maiden flight in 2012.
"We now can make airplanes in a way that no one else can make them," he said. "That will be relevant for the next 50 or 60 years."
He said Boeing "stumbled some" on the development of the 787 and the 747-8 and said other new programs, such as a version of the F/A-18 that allows for electronic jamming, have been successes. The company also has reached targets on its P-8 program, a customized 737 to be used by the US Navy for maritime patrol, he said.
"We hit more new product milestones last year than any time in our history," McNerney said.
About half of the 1,000 layoffs announced today are for workers based in the company's Seattle-area manufacturing hub, and most of the notices went to engineers and information- technology employees, spokesman Tim Healy said.
McNerney has said the company would exceed the target of 10,000 job cuts that wasn't quite reached last year. Healy said there's no specific goal for 2010 employment and that it could increase in the first half and then decline later this year as development programs — the 787 Dreamliner and the 747-8 jumbo jet — enter production.
"This year it's much more of a return to making sure our staffing meets our needs, whereas last year the reductions were closely linked to what was going on with the economy," Healy said yesterday.
Comments will be moderated. Keep comments relevant to the article. Remarks containing abusive and obscene language, personal attacks of any kind or promotion will be removed and the user banned. Final decision will be at the discretion of the Taipei Times.