Ou Chin-der replaces Ing at THSRC
SACRIFICE? Company founder Nita Ing said government help to rescue the rail firm meant more to her than her career. She resigned as chairwoman and board member
Taiwan High Speed Rail Corp (THSRC, 台灣高鐵) chairwoman Nita Ing (殷琪) stepped down from her post yesterday and an ad hoc board meeting elected chief executive Ou Chin-der (歐晉德) to replace her.
Ing, 54, who founded THSRC in July 1998 after winning the nation's first build-operate-transfer contract to construct the north-south high speed railway two years earlier, said she hoped her resignation could help reverse the company's finances.
"My career means nothing if more government participation can help the company run smoothly and profitably," Ing said through THSRC spokesman Ted Chia (賈先德).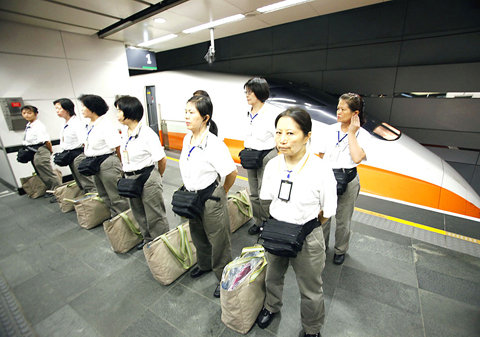 Workers prepare to clean a Taiwan High-Speed Railway Corp train in Taipei yesterday. The company's chairwoman, Nita Ing, resigned yesterday.
PHOTO: NICKY LOH, REUTERS
Chia said Ing announced her decision to step down at the beginning of the board meeting and the board named Ou to the chairmanship under his capacity as the legal representative of the state-run China Aviation Development Foundation (航發會).
The reshuffle, which took effect immediately, ushers in a new era for THSRC, one in which the government will assume a dominant role in deciding the board lineup and management.
The government has a nearly 40 percent stake in the company. THSRC has accumulated more than NT$450 billion (US$13.8 billion) in debts and is seeking a syndicated loan worth NT$390 billion.
Neither Ing nor Ou showed up at the unscheduled press conference after the board meeting. Chia said Ing would remain a board member representing Continental Engineering Corp (大陸工程), one of THSRC's five founding shareholders, while Ou would serve as both THSRC chairman and CEO.
Last night, however, the company said in a stock exchange filing that Ing would also step down from the board and Continental Engineering would nominate a successor soon.
Chia said the company would call an extraordinary shareholders' meeting on Nov. 10 to elect a new board of directors and supervisors.
He declined to comment on reports that Ing resigned to ensure government support for the bank loan.
"The former chairperson made no mention of such pressure," Chia said. "She did extend gratitude to all THSRC employees for helping realize the high speed rail project."
Ou, 65, a civil engineer by training, will soon brief the media on how he plans to improve the company's finances and operations, Chia said.
Ou joined the public service sector in the late 1980s and has worked for the national expressway engineering bureau, the public construction commission and the central government. In 1998, he was tapped by then-Taipei mayor Ma Ying-jeou (馬英九) to serve as deputy mayor. He retained his friendly ties to Ma and the Chinese Nationalist Party (KMT) after joining THSRC in 1996 at Ing's invitation.
Ou has avoided reporters since news broke over the weekend that Ing would be stepping down. Premier Wu Den-yih (吳敦義) said on Sunday that Ing planned to resign.
Comments will be moderated. Keep comments relevant to the article. Remarks containing abusive and obscene language, personal attacks of any kind or promotion will be removed and the user banned. Final decision will be at the discretion of the Taipei Times.