Nan Shan union claims pension victory with AIG
WIGGLE ROOM An AIG official gave no promises and Nan Shan's president said the firm had to seek 'final consent' from AIG's New York headquarters
Amid rounds of applause, more than 300 representatives from Nan Shan Life Insurance Co's (南山人壽) labor union yesterday left the negotiating table with smiles on their faces, confident that US parent American International Group (AIG) is committed to pension repayments and NT$14 billion (US$424 million) in provident funds before the unit's sale at the end of this month — but an official avoided firm promises.
The repayment of pensions for Nan Shan's 36,000 employees and sales agents is expected to cost financially troubled AIG between NT$10 billion and NT$15 billion.
However, Rick Bender, AIG's executive vice president and chief operating officer for the Greater China and India region, looked confused and failed to give concrete promises after yesterday's two-hour meeting, organized by Chinese Nationalist Party (KMT) Legislator Lo Shu-lei (羅淑蕾) and conducted mostly in Mandarin.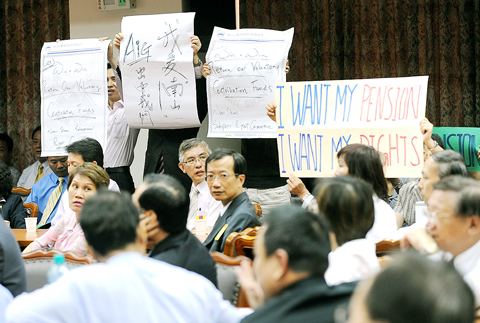 Representatives from Nan Shan Life Insurance Co's labor union hold up placards at a meeting with AIG's executive vice president and chief operating officer for the Greater China and India region yesterday.
PHOTO: LIU HSIN-DE, TAIPEI TIMES
Reluctant to discuss details, Bender said repeatedly that "there is no certainty that a sale [of Nan Shan] will take place. And AIG is committed to the responsible treatment of all agents and employees."
Bender also vowed to "protect the [local life insurer's] provident fund" in the event of any change of ownership, concluding his address at yesterday's meeting by saying: "I assure you … that you should expect no less." He did not elaborate.
Also present at yesterday's meeting was Huang Tien-mu (黃天牧), director-general of the ­Insurance Bureau under the Financial Supervisory Commission, who boosted the labor union's position by affirming regulatory guidance.
He said that "no transfer of ownership will be finalized with [his bureau's] regulatory approval unless all labor issues have been well addressed [by the seller] to allow [AIG] to exit the local market."
Coaxed by Lo during the meeting, Nan Shan president and chief executive officer Frank Chan (陳潤霖) yesterday promised to fully relinquish the company's management committee's rights to operate the provident fund to representatives elected by the union within three days.
After taking over, the labor union will work toward redistributing the provident fund to employees and agents after seeking legal and accounting advice, union representative Chang Li-chiao (張麗皎) told yesterday's meeting.
Chan, nevertheless, told reporters afterwards that based on due process he "has to seek final consent from AIG's New York-based headquarters" on the fund's management, even though he had given his word.
Another union representative, Chiu Fu-yung (邱富勇), yesterday presented a formula the union would use to settle the repayment of pensions. The calculation is based on the employee's average monthly salary over the past three years and the number of years he or she has worked for the life insurer.
For example, if an agent has worked for 10 years with an average monthly salary of NT$50,000 over the past three years, he or she could receive a pension of NT$1.1 million.
Bender didn't address the pension formula, but said: "There could be unforeseen circumstances or consequences to our action. We have to be careful."
Comments will be moderated. Keep comments relevant to the article. Remarks containing abusive and obscene language, personal attacks of any kind or promotion will be removed and the user banned. Final decision will be at the discretion of the Taipei Times.