US rice federation tries to cook up a storm in Japan
Creamy risotto in a fluffy seafood souffle and gelato sprinkled with crunchy topping were among the delicacies concocted by master chefs in a cooking contest in Japan for US rice -- a product that is struggling to crack a nation notorious for protecting its rice farmers.
The California Rice Masters competition was part of a US$1 million campaign kicked off by the USA Rice Federation -- an organization of US rice growers and millers -- to promote Calrose rice. Calrose is widely used in the US but is entering the restaurant and retail market here as kernel rice for the first time in September.
The eight finalists, chosen among 250 entries, labored over their dishes on stage, a couple with trembling fingers, as judges, reporters and guests watched and later taste-tested in a Tokyo hotel on Friday.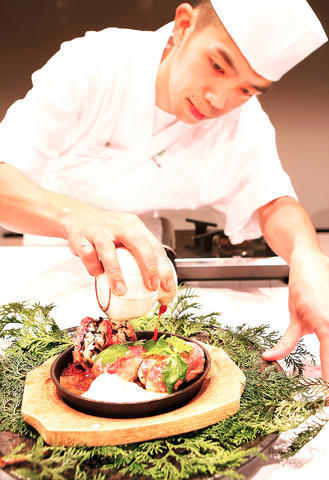 Japan's Rainbow Roll Sushi shop chef Riki Sawaguchi pours sauce on his sushi category-winning ``Beef-on-a-Griddle Sushi'' using California Koshihikari during the 2nd California Rice Masters cooking contest for California-grown rice in Tokyo on Friday.
PHOTO: AP
One contestant shaped a futuristic cakelike sushi decorated with curly seaweed. Another wrapped rice mixed with stir-fried seaweed in paper-thin beef slices grilled on a griddle.
But even winner Masataka Suzuki, 36, a chef specializing in French food, who created the souffle, acknowledged he preferred eating Japanese rice and struggled cooking Calrose, which he said wasn't as moist as Japanese rice.
"I tried to make it taste as close as I could to Japanese rice," he said.
"Consumers would probably like it if it's cooked with a spoonful of butter," he said.
Over the years, US rice growers have developed Japanese-style short-grain rice to appeal to this market.
Demand for such rice has grown in the US and elsewhere, thanks to the booming popularity of sushi, but the appetite for US rice has stayed flat in Japan, the USA Rice Federation said.
The federation's latest strategy is to switch to promoting Calrose medium-grain rice for soups, fried rice and other dishes, rather than compete directly against Japanese rice.
Japanese-style rice is usually cooked in plain water to be fluffy white in a bowl, and Japanese tend to be suspicious of foreign rice, stereotyping it as dry, tasteless and possibly unsafe.
"The tendency among consumers to favor Japanese rice is deeply rooted," Yasuo Sasaki, a Japanese agriculture ministry official, said in a telephone interview. "Japanese rice is stickier and has a special fluffy feel."
Japan opened its rice market only in 1995, and the government still tightly controls the influx of foreign rice, keeping tariffs for rice at 770 percent.
Most of the 770,000 tonnes of rice Japan imports a year end up as foreign aid, get processed for crackers, or sit in storage. Only a handful reaches consumers in restaurants and supermarkets.
Recently, US rice has been losing to cheaper Chinese rice, tumbling in market share from 70 percent of Japan's foreign rice a decade ago to 20 percent, the federation said.
"If given a fair opportunity in the Japanese market, Calrose rice will be accepted and successful," USA Rice Federation official Christopher Crutchfield said.
At first, 34 tonnes of Calrose rice will trickle into restaurants and import stores.
Calrose medium-grain rice, which is cheaper than US short-grain rice, sells for about US$1 a pound (0.5kg) in the US. The Japan price is still undecided.
Comments will be moderated. Keep comments relevant to the article. Remarks containing abusive and obscene language, personal attacks of any kind or promotion will be removed and the user banned. Final decision will be at the discretion of the Taipei Times.