Second quarter much better than expected, Chi Mei official says
DEMAND UP Chi Mei Optoelectronics said there is already a shortage in the supply of 26-inch and 32-inch TV panels and 19-inch and 22-inch PC monitors
Chi Mei Optoelectronics Corp (奇美電子), the nation's second-largest flat panel maker, said yesterday the second quarter would be a better-than-expected period, saying a rebound in demand for most products has caused supply constraints in a traditionally slow season.
"Overall, business in the second quarter has been better than the guidance we previously gave," said Kuo Chen-lung (郭振隆), a vice president of Chi Mei, on the sidelines of the annual photonics festival in Taipei.
Chi Mei said in April that panel shipments would rise between 15 percent and 20 percent at a quarterly rate in the April to June quarter, citing a strong rebound and flat prices.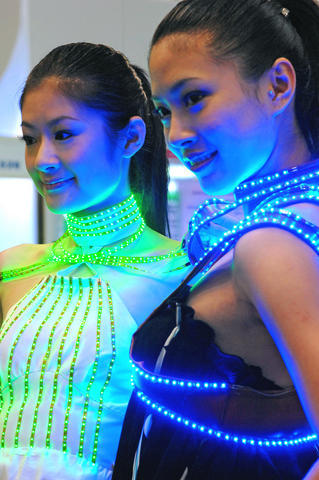 Two models demonstrate their light emitting diode (LED) clothes during a photonics festival in Taipei yesterday. Some 655 booths, including LED lighting firms, solar power product manufacturers and panel makers, were taking part in the four-day annual exhibition.
PHOTO: AFP
"We are unable to meet our customers' demand for most of our products, ranging from mobile phone panels to television panels," Kuo said.
There is already a severe shortage in the supply of 26-inch and mainstay 32-inch panels for TVs and 19-inch and 22-inch widescreen computer monitors, Kuo said.
The recovery has boosted panel prices between 2 percent and 6 percent on a monthly basis in the first half of June, said market researcher WitsView Technology Corp, a unit of DRAMeXchange Technology Inc (集邦科技) in Taipei.
The faster recovery from last year's downturn would carry into the second half and would magnify the traditional seasonal upturn, Kuo said.
As panel makers and channel operators inventories have already been reduced to a low level in the first half, something rarely seen in the past, "prospects for the second half should be quite good," Kuo said.
Chi Mei's upbeat outlook is in line with its larger rival AU Optronics Corp's (友達光電) expectations of a shortage on seasonal demand.
Chi Mei yesterday showcased its latest products, which should bring more new orders starting next month.
The products included a 7.5-inch thin-film-transistor liquid-crystal-display panel for low-priced laptop computers in the One Laptop per Child (OLPC) program and high-margin panels such as computer panels with light emitting diode (LED) backlights and high definition TV panels measuring up to 52 inches.
Chi Mei said it is supplying panels to OLPC manufacturer Quanta Computer Inc (廣達電腦) and it plans to start shipping 15.4-inch panels with LEDs next month to customers in the US, Kuo said.
Chi Mei will also begin supplying 20.1-inch screens, the biggest ever for notebook computers, to the world's biggest computer maker Hewlett-Packard Co next month.
Comments will be moderated. Keep comments relevant to the article. Remarks containing abusive and obscene language, personal attacks of any kind or promotion will be removed and the user banned. Final decision will be at the discretion of the Taipei Times.