Sony announces first Taiwanese game for popular PS3 console
Sony Computer Entertainment Asia yesterday announced that a Taiwanese vendor will partly develop a game for its popular PlayStation 3 (PS3).
Sony joined hands with software developer Actainment Co (艾克特科技娛樂) to develop a game tentatively titled "Railfan" (台灣高鐵), which is a driving simulation game based on high speed rail.
"The game is still under development and we expect gamers will see it sometime this summer," said Tetsuhiko Yasuda, the managing director of Sony Computer Entertainment Asia, at a press conference in Taipei yesterday.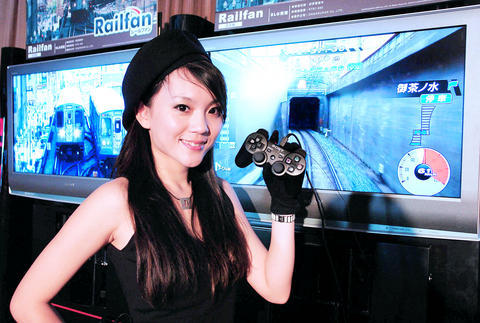 A model displays a Playstation 3 console at a press conference yesterday by Sony Computer Entertainment Asia and software developer Actainment Co to announce a joint venture to develop a new game inspired by the Taiwan High Speed Railway. Railfan allows players to simulate driving a train while enjoying the passing scenery captured by high-definition quality video.
PHOTO: CNA
He made the remarks at a signing ceremony with Actainment as well as Japan's Ongakukan Co, the main developer of the game.
Sony said the new game will be launched simultaneously in Taiwan, Hong Kong and Singapore.
"We may talk to other Taiwanese developers for future collaborations on PS3, but no discussions are currently underway," Yasuda said.
"Railfan" offers players a train operating simulation enhanced by the actual scenery of the trip captured by high-definition cameras.
There is also information on major tourist destinations as you pass them.
Ongakukan, which has produced over 30 simulated games modeled on Japanese and US high speed trains, will provide the technology for the game, while Actainment will assist in creating the user interface and the trains.
"Taiwanese developers have unique content, but they are still struggling to hit the world stage," said Malo Haung (黃鶴樓), CEO of Actainment, a budding game developer created last December.
Through collaboration with Japanese firms, the Actainment staff learned game development as well as technological skills.
While only one local vendor has been asked to develop a PS3 game, more than a dozen Taiwanese game developers have been asked by Microsoft Corp to create games for the Xbox 360.
Some of the companies include XPEC Entertainment Inc (樂陞科技), FunTown (和信超媒體戲谷), Soft-World International Corp (智冠科技) and Softstar Entertainment Inc (大宇資訊).
Comments will be moderated. Keep comments relevant to the article. Remarks containing abusive and obscene language, personal attacks of any kind or promotion will be removed and the user banned. Final decision will be at the discretion of the Taipei Times.