Multimedia show offers full lineup of gadgets
The Taipei Multimedia Computer Show opened its doors to the public yesterday, promising consumers good deals before the Lunar New Year holidays.
The Taipei Computer Association (台北市電腦公會), the show organizer, said that at least 20 new products were featured this year and that it had established a pavilion to highlight the latest gadgets.
Among the hottest offerings are notebooks, handsets, MP3 players and global positioning system devices.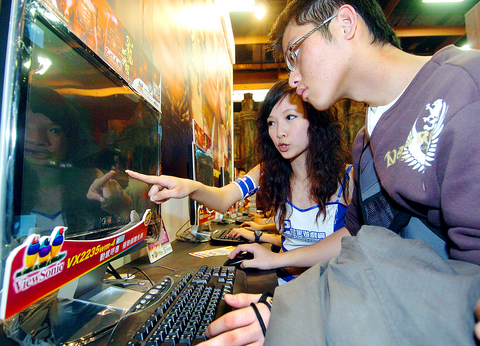 A model yesterday points to a computer screen while demonstrating to a visitor how to play a videogame at the Taipei Game Show.
PHOTO: FANG PIN-CHAO, TAIPEI TIMES
Chi Mei Corp (奇美實業), for instance, is showing off its 42-inch liquid-crystal-display (LCD) TV.
The new model, the DTL-742E500, is a full high-definition TV featuring a contrast ratio of 1,200:1 and a brightness of 500 cd/m2. Its price tag is NT$54,900 (US$1,660).
Plasma TVs used to dominate the large, flat-screen TV market. But LCD TV makers such as Sony Corp and Sharp Corp, as well as Samsung Electronics Co and LG Electronics Inc, have introduced their 40-inch LCD TVs and above to meet rising consumer demand.
Ben Cheng (鄭良彬), vice president at Nexgen Mediatech Inc (新視代科技), a LCD TV maker under the Chi Mei Group (奇美集團), said that this year all Chimei brand LCD TVs 37 inches and above will move toward full high-definition to tap into the promising segment.
The 42-inch models will be its main-selling item, which should account for 10 percent of total sales in the nation for the whole year, he said.
Catering to the growing blogging community, Fujifilm Corp is promoting its latest digital camera FinePix Z5fd, which debuts the company's brand-new Blog Mode.
In this mode, the camera copies and automatically reduces image size for easy posting on a blog, Web page or as an attachment to an e-mail.
The 6.3-megapixel camera also boasts a face detection technology, which automatically sets the correct focus for a selected primary face and exposure for other faces, regardless of where subjects are located within the frame.
The sleek camera retails for NT$12,500 at the show.
Micro-Star International Co (微星科技), one of the nation's leading motherboard makers, is highlighting the company's first medical notebook computer that incorporates an electrocardiogram (ECG) analysis tool.
Still in the concept stage, the notebook -- known as HATO (Heartbeat Audition Transceiver On-the-Go) -- keeps track of a patient's ECG and transmits the data to a hospital, where physicians can monitor and diagnose the user's condition in real time.
The notebook, which will come in handy for patients needing constant monitoring of their health conditions, will open up a new business segment for the company, Micro-Star said.
Its other products on display at the show include the P660 -- a new MP3 player boasting 70 hours of battery life, which gives users a long-lasting digital music experience.
The show, held at the Taipei World Trade Center Exhibition Hall I, is open from 10am to 6pm through next Monday.
Comments will be moderated. Keep comments relevant to the article. Remarks containing abusive and obscene language, personal attacks of any kind or promotion will be removed and the user banned. Final decision will be at the discretion of the Taipei Times.