Dunkin' Donuts opens first outlet today
MOUTH-WATERING In a market where competition is fierce, in comes a new player that has big expectations for the nation's appetite for sweet delicacies of all kinds
Dunkin' Donuts, the 10th-biggest US chain, will open its first store in Taiwan today, providing a wide variety of donuts, beverages and sandwiches to compete head-on with its Japanese counterpart Mister Donut.
Relying on its local partner Mercuries and Associates Ltd's (三商行) vertically integrated capabilities, it unveiled an aggressive plan to open 100 stores within 10 years, said Anthony Pavese, vice president of Asia Pacific for Dunkin' Brands, which owns Dunkin' Donuts, Baskin Robbins and Togo's.
The US firm runs over 1,400 Dunkin' Donuts in Asia, including 500 in the Philippines, 400 in Korea, 250 in Indonesia and close to 200 in Thailand. It expressed optimism that the famous brand will soon have a strong presence in the local market.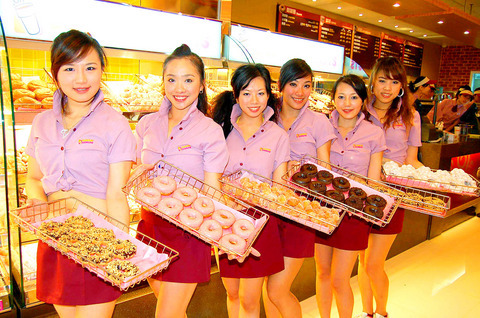 Cheerleaders yesterday introduce 60 donut flavors at the nation's first branch, located on Nanjing E Road, Taipei, of the US-based Dunkin' Donuts.
PHOTO: YANG YA-MIN, TAIPEI TIMES
"Taiwan is a great target market for our Greater China strategy. People here are good at accepting Western brands," Pavese said following a press conference in Taipei yesterday.
Following only six months of negotiations, Mercuries and Associates -- which also owns the beef noodle chain Sanshang Chiaofu (三商巧福), Napoli pizza and Japanese restaurant Tonkatsu (福勝亭) -- secured a 20-year franchise right, including expansion in China.
Andrew Chang (張榮基), president of the food service division at Mercuries and Associates, said the new brand is expected to pull in revenues of NT$200 million (US$6 million) in the first year after 10 stores are opened in Taipei. It expects to start reporting profits in the second year.
"With different combinations of coffee, donuts, bagels, croissants and bread, we aim to snatch a market share in the leisure food and beverage market, including breakfast," Chang said, adding that most of its branches will operate between 7am and 10pm.
Different from Mister Donut, which has kitchens in every store, Dunkin' Donuts cuts production costs through regional factories, allowing it to offer products at a lower price than its competitors.
Its first factory in Shenkeng (深坑), Taipei County, will transport confectioneries -- including 60 donut flavors -- to 10 to 15 stores nearby, Chang said.
The nation's coffee and bakery market has become extremely competitive, with leading players like Starbucks, Mister Donut and the cafe and bakery chain 85°C (美食達人) battling for market dominance.
Mister Donut, which entered the local market in October 2004, has expanded to 16 stores and plans to have 40 stores by the end of this year.
"What differentiates us from the competition is that donuts are the major focus in our shops and we prioritize sophisticated flavors and high-quality products," said Ting Hui-ling (丁慧玲), a public relations specialist for Mister Donut Taiwan Co (統一多拿滋), which offers as many as 50 donut flavors.
Mister Donut sold 18.78 million donuts last year, with total revenues expected to reach NT$595 million, statistics showed.
Comments will be moderated. Keep comments relevant to the article. Remarks containing abusive and obscene language, personal attacks of any kind or promotion will be removed and the user banned. Final decision will be at the discretion of the Taipei Times.