Matsushita, Kenwood deny sale
Matsushita Electric Industrial Co and Kenwood Corp yesterday denied reports of a possible sale of Matsushita's stake in electronics maker JVC to Kenwood.
Japan's largest business newspaper, Nihon Keizai, yesterday reported that Matsushita, which has a 52.4 percent stake in Victor Company of Japan Ltd, widely known as JVC, plans to sell its stake to audio-maker Kenwood. Kyodo News agency carried a similar report.
Matsushita plans to sell at least half of the JVC shares it owns and lower its stake to 20 percent before its shareholder meeting in June, Nikkei reported, without citing sources. About 30 percent of JVC's shares would be worth ?45 billion (US$380 million), the newspaper said.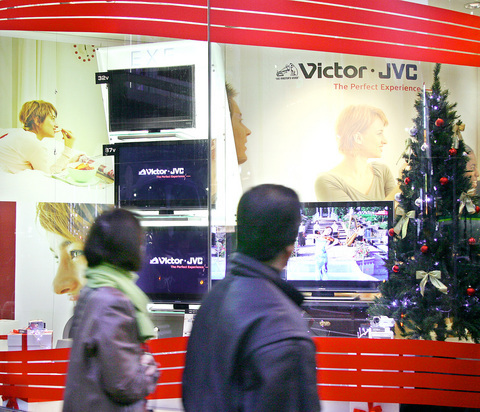 Christmas shoppers walk by a JVC showroom in Tokyo yesterday. Japan's Matsushita Electric Industrial will sell at least half its stake in JVC, negotiating a deal with prospective buyer Kenwood Corp, an economic paper reported. Matsushita and Kenwood rebutted that and other reports.
PHOTO: AFP
However, both Matsushita, known globally for its Panasonic brand products, and Kenwood said that nothing had been decided.
Matsushita said in a statement that it "has not decided anything in regards to the sale of its stake in Victor Company of Japan Ltd." Kenwood also said no decision had been made.
Matsushita spokesman Akira Kadota refused to comment on whether the company is considering selling its stake in JVC. He also refused to comment on whether the company is in talks with Kenwood.
Kadota acknowledged that JVC is the only Matsushita subsidiary which is in the red. "There are many options, and a sell-off is one of them," he said.
However, he said Osaka-based Matsushita also hopes that JVC's management would improve on its own and would closely watch JVC's business ahead of its earnings report to be released in March.
Nikkei and Kyodo also reported that there was a second proposal under which JVC would acquire its shares from Matsushita through a management buyout. US investment fund Cerberus was expected to provide the capital for the purchase under that proposal, the reports said.
JVC and Cerberus officials were expected to propose the plan to Matsushita as early as tomorrow, Nikkei said.
JVC, the pioneer of VHS-format videocassette recorders, was once a strong player in consumer electronics but its earnings have tapered off because of mounting competition in the audiovisual market.
Kenwood wants to use the Victor brand to strengthen its own video and audio product lineup, Kyodo said.
Comments will be moderated. Keep comments relevant to the article. Remarks containing abusive and obscene language, personal attacks of any kind or promotion will be removed and the user banned. Final decision will be at the discretion of the Taipei Times.