V-Mate offers recording convenience
Targeting the rising number of mobile device users in Taiwan, SanDisk Corp, the world's largest maker of flash memory storage cards for electronic devices, yesterday unveiled a video memory card recorder that allows users to watch recorded video content on their cellphones, personal digital assistants or even handheld game consoles.
With V-Mate the video memory card recorder, users can record content from video inputs such as over-the-air, cable and satellite television, DVD players, personal video recorders like TiVo and video cassette recorders, onto their flash memory cards.
Measuring 13cm in length, 6.6cm in width and 2.032cm in thickness, the V-Mate is a compact alternative to bulky video tape recorders as it can also play back recorded video content. V-Mate is especially useful for people who do not have the time to sit and watch TV at home. After recording a program at home, users can take the memory card and play the content on their mobile devices wherever they go.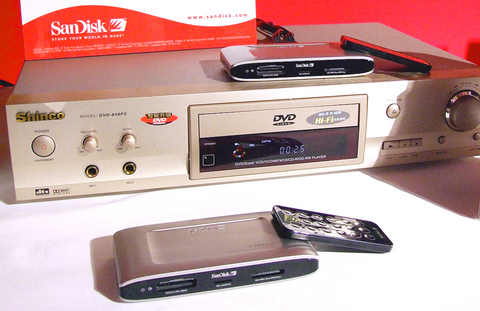 The new SanDisk V-Mate media recorder, front, allows users to record onto a flash storage card, which can then be played on various mobile devices.
PHOTO: KE LI-HSIN, TAIPEI TIMES
"People who are always on the go will not miss their favorite TV shows," Gavin Wu (吳家榮), managing director of SanDisk in the Asia-Pacific region, said at a press conference yesterday.
The V-Mate can record up to 3.5 hours of high quality video per gigabyte by using industry-standard video formats. It supports almost all widely used memory cards, including SD, miniSD, microSD or Memory Stick PRO Duo cards.
The product is scheduled to hit the shelves next month at a suggested retail price of NT$4,599 (US$140.45), Wu said.
SanDisk also unveiled its latest digital music player, the Sansa c200, which is a middle-end product designed to lure price-sensitive buyers.
SanDisk has about a 10 percent share of the digital music player market, trailing a distant second to Apple Computer Inc's iPod series.
Featuring a bright LCD color screen and a microSD expansion slot, the Sansa c200 supports MP3, WMA and the protected WMA digital rights management (DRM) formats that enable users to purchase music files from most online music providers.
Meanwhile, Wu said despite weak consumer spending this year, the company is positive about sales prospects this holiday season. With an increasing number of digital gadgets being introduced in the market, the demand for storage devices with larger capacities is on the rise, Wu said.
Comments will be moderated. Keep comments relevant to the article. Remarks containing abusive and obscene language, personal attacks of any kind or promotion will be removed and the user banned. Final decision will be at the discretion of the Taipei Times.