Asia Pacific Broadband says it will break even next year
MAJOR INFRASTRUCTURE COMPLETE Capital spending for this year will be minor as the telecom has already finished base station deployment enabling full coverage
Asia Pacific Broadband Wireless Communications Inc (亞太行動寬頻), a domestic mobile operator, yesterday said it would break even by the middle of next year as subscribers and revenues increased.
Asia Pacific Broadband, the only company in Taiwan offering wireless telecom services on next-generation CDMA2000 technology, has been struggling to turn a profit since its inception in 2003, but said the goal was achievable at this point in time.
The CDMA2000 technology enables high-speed transmission similar to the third-generation (3G) technology, which has been adopted by Taiwan's major telecom players including industry leader Chunghwa Telecom Co (中華電信).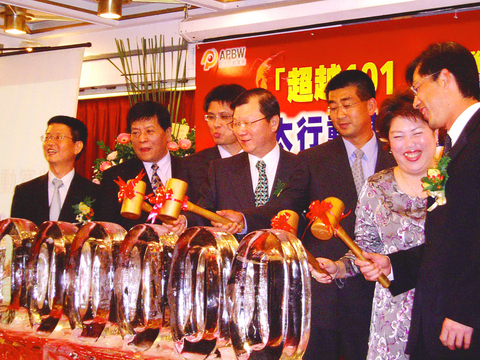 Asia Pacific Broadband Wireless Communications Inc chairman Wang Lin-tai, center, is joined by other company representatives at a press conference yesterday where they smashed blocks of ice, symbolizing the company's breakthrough of 1 million customers this year.
PHOTO: WANG YI-HUNG, TAIPEI TIMES
"Growing revenues and reducing capital spending will help us to reach that goal," Asia Pacific Broadband chairman Wang Lin-tai (王令台) told reporters.
Subscribers would expand over 30 percent to at least 1.38 million users next year after passing the one million mark last month, Wang said, adding that the growth would be faster if the nation's private consumption improves.
An increase in sign-ups would also give a boost to its annual revenues, which are set to rise by 50 percent year-on-year to NT$11.3 billion (US$350 million) from an estimate of NT$7.5 billion for this year, Wang added.
The margin for earnings before interest, taxes, depreciation and amortization would also improve to 25 percent next year from the current 16 percent, the mobile carrier said.
Capital spending for next year would be "minor," Wang said, as the telecom had already finished the base station deployment to enable full coverage.
Asia Pacific Broadband received US$210 million in syndicated bank loans in May to expand its network.
The telecom company has 2,300 base stations around the nation.
Asia Pacific Broadband is a member of Asia Pacific Telecom Group (亞太電信集團), which also owns fixed-line company Asia Pacific Broadband Telecom Co (亞太固網) and Internet service provider Asia Pacific Online Services Inc (亞太線上).
To boost its customer base, Asia Pacific Broadband spent NT$200 million to set up a retail store chain Asia TeleMart Co (亞太聯通) to sell numbers and handsets.
Comments will be moderated. Keep comments relevant to the article. Remarks containing abusive and obscene language, personal attacks of any kind or promotion will be removed and the user banned. Final decision will be at the discretion of the Taipei Times.