Taipei bids adieu to Kuanghua Market
NEW HOME The famous electronics and books center is relocating to a new and more modern location, but the memories remain for generations of bargain hunters
Like any other weekend, crowds of book fans and computer geeks gathered in Kuanghua Market (光華商場) yesterday. But instead of hunting for valuable out-of-print books or shopping for computer parts, most of them came to have their last tour, and then say goodbye to the popular electronics parts center and the largest second-hand bookmarket in the north of Taiwan before it closed for good.
Due to the Taipei City Government's decision to tear down the Kuanghua overpass because of safety concerns, the 32-year-old market, which is located under the overhead expressway at the corner of Hsinsheng North Road and Bade Road, will be relocated to a new spot in nearby Jinshan North Road.
"I will miss this place a lot, because I have my best college memories here," Victor Huang said (黃建豪), a visitor to the market who graduated from the nearby National Taipei University of Technology three years ago.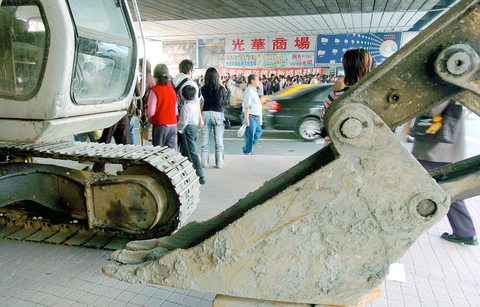 Above: An excavator sits under the overpass by Kuanghua Market yesterday to prepare tearing down the overpass. The market closed after its last day of business yesterday. Below: The owner of a shop dealing in second-hand books packs up to leave for another location elsewhere in Taipei along with almost 200 other retailers.
PHOTOS: LO PEI-DER, TAIPEI TIMES
Huang is among many that carried a camera to take a last picture of the market.
Official opening
Opened on March 8 1974 with the late president Chiang Ching-kuo (蔣經國) cutting the ribbon, Kuanghua Market was originally built to accommodate about 70 second-hand book retailers sprawled along Guling Sreet.
?
However, the two-floor cement complex later attracted jade and antique retailers.
When the nation's electronics manufacturing started to take off during the 1980s, many retailers in the market began to diversity by selling various electronic parts and equipment.
The merchandise later expanded to stereo equipment, computer software, hardware and other peripherals, as well as music tapes, CDs and DVDs.
The businesses extended from the market to neighboring blocks, and the area emerged as the largest hub of IT product distribution in northern Taiwan.
But Rome wasn't built in a day.
"I remember when I first opened my business here one year after the market was inaugurated, some days it was common to not see one single visitor," said Chang Yung-lung (張永隆), owner of Kingsounds Electronic and Information Square (金嗓子電子資訊社).
Chang, 52, first started his business in the market by selling dry snacks and cookies. Riding the boom of Taiwan's electronics contract making, Chang decided to switch to electronics retailing after about five years of selling food.
"Despite the fact that the market looks old and shabby now, I feel sad about moving from this place ? After all, I have spent most of my life here," Chang said.
Speaking about why the inconspicuous gray complex under the overpass turned into an electronics mecca, Chang said at first, some retailers there made a small fortune from selling second-hand electronic devices and parts obtained from the US military, which withdrew after the US broke diplomatic ties with Taiwan in 1979.
Later, to meet the heavy demand from students of the nearby National Taipei University of Technology (previously known as the Provincial Taipei Institute of Technology), more and more people jumped on the bandwagon of electronics and parts sales, Chang said.
With the clustering effect, shops in the market and the mushrooming upstarts around it were able to outcompete companies in other areas of the city by squeezing costs, making Kuanghua Market the first place people thought about when buying electronics and computer components, he said.
The status of the market has since been unbreakable, regardless of challenges from the emergence of large-scale electronics chains run by Tsann Kuen Group (燦坤實業) and E-Life Mall Co (全國電子), which are able to offer a more spacious and cleaner shopping environment.
Kuanghua Market's business remains booming as always, despite the coming of the electronic commerce era.
"Many people use the Internet to compare prices, but most of them still make their purchases here," Chang said.
While the upper-level bustled with shoppers bargaining for better prices on high-tech products, the underground world attracted book worms of every kind keen to immerse themselves in second-hand martial art novels, comic books, science fiction, and a wide array of other genres, making the market a contrast of new and old, but also an ingenious convergence of traditional reading matter and the latest technology.
Relocation
Although some vendors of 3C products (namely computers, consumer electronics and communications products) have decided to relocate to shops on Bade Road, about 196 Kuanghua Market retailers will move en masse to a temporary venue at the crossroads of Jinshan North Road and Civil Boulevard, before settling down in a yet-to-be-built building behind the crossroads of Hsinsheng South Road.
However, the nearby jade market won't be moving as it is located in a private building.
The temporary site will begin soft-opening on Jan. 18 with a formal unveiling scheduled on Feb. 10, according to the city government's plan.
The construction of the new building to accommodate the retailers is scheduled to begin in February.
The new place is around 100m from the old spot and the city government is targeting its completion for sometime early next year.
"Although I know all the retailers will still be in the new spot, this is an irreplaceable place, full of memories," explained a veteran visitor surnamed Chen.
"I came to have my last visit before it is closed, " he said.
Chen lived in the Kuanghua neighborhood for 20 years before moving to Keelung.
He spent countless weekends in the market's bookstores as a youngster, and later took his wife to join the book feast, and finally his kids.
"I think every city should preserve a few old corners to evoke people's nostalgia for the old times," Chen said, "but as the government gradually tore down the old nooks over time, I don't know what remains for Taipei residents to remind them of the old days."
Despite the sadness of saying goodbye, Tseng Hsueh-hsing (曾學興), owner of a bookshop in the market, is looking forward to a new start in the new venue.
"I think many of our loyal customers will still call by after we move," Tseng said, while loading books into boxes. "There is no other place in Taiwan to find these treasures."
Comments will be moderated. Keep comments relevant to the article. Remarks containing abusive and obscene language, personal attacks of any kind or promotion will be removed and the user banned. Final decision will be at the discretion of the Taipei Times.