Disney Hong Kong insists on shark's fin-soup meals
Disney said yesterday it would stand by its decision to serve shark's fin soup at its new Hong Kong theme park, after winning support from the city's catering trade.
The US entertainment giant was attacked by conservationists last week for deciding to offer the controversial dish at the Disneyland hotel, when the US$3 billion theme park opens in September.
Green groups say Disney should set an example by not serving shark's fin, the harvesting of which they say leads to the slaughter of millions of sharks a year and has put some species at risk.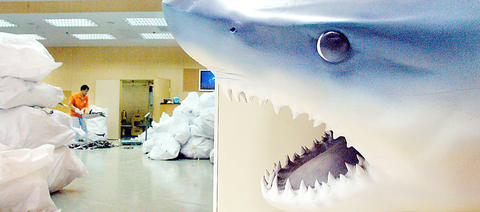 A worker, in the background, shovels shark fins at a warehouse in Hong Kong last week. Environmentalists have angrily demanded that Disney boss Michael Eisner personally intervene to prevent shark's fin soup being served at Hong Kong's soon-to-be-opened Disneyland theme park.
PHOTO: AFP
It also encourages the practise of "finning," where fishermen slice fins from sharks and throw the fish back into the sea to die, according to groups like the World Wide Fund for Nature and Greenpeace.
A legislator for the catering industry and the president of a restaurant trade group have backed Disney, saying it is being unfairly pilloried and would be a "laughing stock" if it did not offer the dish.
Tommy Cheung, the legislator representing Hong Kong's catering sector, said: "I don't believe sharks are an endangered species. Some species of shark may be, but not all shark's fin comes from certain species. There are a lot of species that are plentiful.
"I am not aware why people are making so much fuss about Disney. Many restaurants are serving shark's fin, so why pick on Disney?"
Cheung said it was unreasonable to expect the theme park to offer Chinese banquets without offering the dish.
"Chinese tradition is that you put shark's fin on the table," he said. "If you don't, you are not respecting the guests you invite. It is a matter of face."
David Ng, president of the Hong Kong Federation of Restaurants and Related Trades, said that people holding wedding banquets could be made to seem a "laughing stock" if they did not offer shark's fin.
"This is the traditional culture of Chinese people, and you can't say it is right or it is wrong," he said.
"No Chinese banquet would be complete without shark's fin soup. It is a dish that dates back maybe hundreds of years. You must treat your guests properly," he said.
A spokeswoman for Disney said there was no change in the decision to serve shark's fin soup at the theme park, despite the outcry from conservationists.
Disney takes environmental stewardship seriously but must also respect "local cultures," she said.
The dish would be served only on request and only as part of a Chinese banquet, she stressed.
Comments will be moderated. Keep comments relevant to the article. Remarks containing abusive and obscene language, personal attacks of any kind or promotion will be removed and the user banned. Final decision will be at the discretion of the Taipei Times.