Planner says firms need deregulation
Hu Sheng-cheng, the academic-turned-chairman of the Council for Economic Planning and Development who doubles as a minister without portfolio in the new Cabinet, talked to 'Taipei Times' staff reporter Joyce Huang last week about his plans for a new blueprint for the nation's economic development.
Taipei Times: The Democratic Progressive Party government has vowed to reinforce its financial reforms to boost foreign investments in Taiwan's stock market [from 20 percent] to 30 percent. How would the government achieve this goal? \nHu Sheng-cheng (胡勝正): Financial reforms have been a top priority of President Chen Shui-bian's (陳水扁) administration, which has accomplished its first-phase goal, to turn around the distressed financial sector and clean up the nation's bad loans. According to government statistics, the nation's bad-loan ratio has dropped from a peak of 8.04 percent in the first quarter of 2001 [excluding loans under observation] to the current 3.8 percent. \nThus 2004 will mark a new year for the government to set new goals, including the creation of a profit-making environment to benefit the financial sector. \nUltimately, we want to develop Taiwan into a regional capital-raising hub, since our expatriate Taiwanese businesses have branched out globally. We also aim to turn the nation into a regional asset-management hub, since many foreign investors are interested in making investments here. \nTo achieve both goals, a further relaxation of controls on capital flow will be inevitable. This has motivated us to seek advice from the private sector on ways to cut red tape and facilitate a better financial-service and investment environment. \nTT: Apart from measures to develop capital markets here, do you have any plans to address the importance of financial discipline and to monitor financial institutions' health? \nHu: To enhance the nation's capital markets, the government aims to facilitate a well-functioning financial supervisory system while adopting deregulatory policies to allow the private sector to prosper. \nOn July 1, the Cabinet-level Financial Supervisory Board (金監會) will be empowered to oversee the banking sector's performance. \nThe principle of corporate governance will also be emphasized to strengthen the sector's competitiveness while market mechanisms such as allowing hostile takeovers, as opposed to mergers and acquisitions, encourage its further consolidation. \nTT: The private sector has long urged the government to relax cross-strait financial restrictions so that companies can branch into Chinese markets and gain market share in the greater China region. Will the government address this issue soon? \nHu: The Ministry of Finance has been considering a series of deregulatory measures to foster cross-strait financial development, which includes allowing China-based Taiwanese businesses to list on local stock markets. A freer flow of capital across the Taiwan Strait will also be taken into consideration, although some government agencies express concerns over the impact of this on national security. \nI personally think businesses have a better understanding of where their money should go and should stay. What the government should do here is to respect the market mechanism and provide better information to enable businesses to make decisions, while adopting deregulatory policies to remove unnecessary restrictions. \nTT: The economic recovery has turned solid, which should help the nation's economic growth rate [GDP] exceed 5 percent this year. But the economy still faces challenges and short-term disturbances, including skyrocketing oil prices, possible interest rate increases in both the US and China, and rising inflationary pressures in China after its measures to cool off excessive investment. How do you think those short-term factors will impact the local economy? \nHu: The government forecasts that this year's GDP will grow 5.41 percent, based on the precondition that crude oil is priced at US$32 per barrel. However, the nation's petroleum-related industries, which used to account for 37 percent of GDP, have less impact on the local economy since they now account for only 27 percent of GDP. The consumer price index (CPI) may rise by 0.04 percent for every 1 percent increase in oil prices. \nTherefore, we may not feel the pain since our economy just emerged from deflationary worries and the nation's CPI may only increase slightly -- far less than a worrisome 3 percent jump. As for China's cooling-off measures to rein in its overheated economy, I think this will be positive for our local economy, as long as China manages a soft landing. \nThe pressures Taiwan faces to appreciate its currency will be greatly alleviated by this, despite the fact that one-third of Taiwan's exports go to China and that three-fourths of Taiwan's outbound investments are China-bound. However, many China-based businesses may have to reconsider their business deployment to diversify their risks, because China's WTO entry has brought in more foreign competition to the disadvantage of Taiwanese businesses there. \nThe government will soon formulate new policies to aggressively help China-based Taiwanese businesses expand elsewhere in Asia so as to diversify risks from doing business in China, where returns and risks are both high. \nTT: What do you think of the recent controversy over Chinese authorities taking a hostile attitude against pro-independence Taiwanese businesses such as the Chi Mei Corp (奇美實業), the world's largest manufacturer of the plastic raw material ABS (acrylonitrile butadiene styrene)? \nHu: It has long been an issue that Taiwanese businesses can sometimes become hostages to cross-strait politics, although we're not sure yet that the recent trouble [Chi Mei encountered] is a case of this or not. But I don't think China is capable of economically isolating Taiwan. It has always been the local governments' job to compete for Taiwanese investments, and I don't think the central government can significantly or easily expand its influence at this level. \nAlso, as a WTO member, China has to impose nondiscriminatory policies on all businesses, including Taiwanese companies doing business there. China may have to pay a bigger-than-expected price if it attempts to intentionally harass Taiwanese businesses or to economically isolate Taiwan. \nTT: In the short term, what will the government do to weather economic uncertainties and prepare for growth? \nHu: The government has been closely watching the possible impact from these economic uncertainties, which the local markets have previously overreacted to. \nTo minimize concerns over those short-term economic uncertainties, the government will continue its short-term economic stimulus policies, such as preferential home loans and the temporary employment scheme for public works. \nThe Cabinet's employment scheme, which is expected to come to an end on June 17, will be extended for another grace period of six months with an estimated budget of NT$7 billion to create 40,000 jobs. \nIn the long run, we'll strengthen the nation's infrastructure construction to beef up Taiwan's national competitiveness by launching the New 10 Major Infrastructure Projects to facilitate the transition from a labor-intensive to a knowledge-based and service-oriented economy. \nThe government will also continue economic and financial reforms, tax reforms and deregulation to improve the Taiwan investment environment. \nNew emerging industries for Taiwan to develop include the financial services, tourism and human services industries, which also help build a social welfare net for the aging society. \nTT: To boost foreign investors' confidence in the economy, the president exchanged views with top executives of 17 foreign investment banks and brokerages last Monday. Did the government take any advice from those foreign investment bankers? \nHu: The Cabinet is still looking into the suggestions made by participants in this meeting, most of which will be considered as long as they are in accordance with international standards. \nMany participants expressed interest in taking part in the nation's emerging business opportunities after the establishment of a domestic pension-fund scheme, and many urged the government to relax restrictions on the hedge fund. \nIn accordance with WTO principles, Taiwan will make every necessary effort to open up its financial markets and internationalize its capital markets. \nTT: The American Chamber of Commerce in Taipei (AmCham) in its 2004 Taiwan White Paper called on the government to improve economic ties with China and facilitate direct transportation links as soon as possible. What is the government's official response? \nHu: I think many people in Taiwan have exaggerated the importance of direct cross-strait links, and I don't think the absence of them marginalizes the economy at all. On the contrary, some even argue that the local economy will be marginalized once the links are put in place. \nI think Taiwan has done all it can to facilitate such links, but it takes two to tango. I sincerely hope that AmCham can also extend the same suggestion to the Chinese authorities, who have set a very difficult precondition that Taiwan must accept their "one China principle" to initiate talks on the three links. Taiwan will never accept the one China principle since it denies national sovereignty.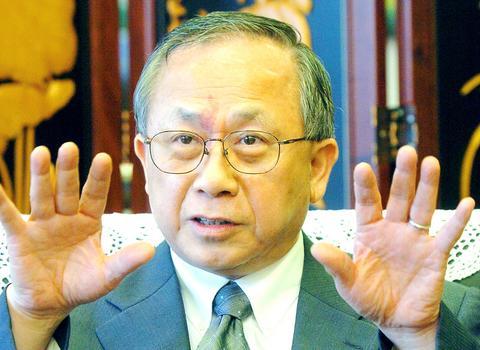 Hu Sheng-cheng, a Cabinet minister without portfolio, says the government will ``aggressively help China-based Taiwanese businesses expand elsewhere.''
PHOTO: GEORGE TSORNG, TAIPEI TIMES
Comments will be moderated. Keep comments relevant to the article. Remarks containing abusive and obscene language, personal attacks of any kind or promotion will be removed and the user banned. Final decision will be at the discretion of the Taipei Times.