Taiwan's crisis familiar to UK
OPENING DOORS Acting locally and thinking globally to promote investment are the keys to success in a post-manufacturing economy, a high profile British trade rep says
Government help in preparing companies to go global is the key to success in post-manufacturing economies such as Taiwan's, a UK investment official said yesterday. \n"The challenge that we face and the challenge which I feel sure is faced here in Taiwan is to raise the quality of jobs," said Stephen Brown, group chief executive of British Trade International, the British government's organization for promoting trade and investment overseas and inward investment to Britain. \n"We cannot compete, in the UK, in world markets in the low-wage, low-skill, low-tech economy," Brown said. \nThe UK has seen its manufacturing industries move to lower-cost countries in central and eastern Europe. Similarly, the majority of Taiwan's production now takes place in China. \nBut in spite of the "hollowing out" of the manufacturing base, the UK now has more people employed -- 28 million -- than it has had for a generation because it is internationally competitive, Brown said. \nThe UK attracts more foreign direct investment (FDI) than any other country in Europe, and is globally the second-largest destination for inward and outward investment, Brown said. \n"One in four jobs in the UK is linked to business overseas," he added. \nThe experience in the UK has been that investing overseas while simultaneously attracting investment into the country has increased productivity, Brown said. \n"Economies, I think, which are open to the outside world are economies that can adapt and innovate and be creative. And I suggest that is the way forward for both our economies," he said. \n"Companies which engage in international business tend to be stronger, more innovative, more productive, invest more, have higher skill levels," he added, citing university research. \nThe basis of competitiveness is stable macro-economic policy that allows business to predict how long-term investments will fare. Flexible labor, good infrastructure, financial markets that function effectively, clear regulations that are enforced and a welcoming environment also encourage investment, Brown said. \nTaiwan seems to have the right mix as it has attracted over 300 UK companies and investments worth over ?13 billion (US$21.6 billion). \nThe UK is now the fifth-largest trader in the world, with exports contributing ?250 billion (US$416 billion) to the economy, or 25 percent of the country's GDP, government statistics show. \nThe UK sold just under ?1 billion (US$1.66 billion) of goods and services to Taiwan last year, and is the seventh largest investor in Taiwan. \nBrown's department has 300 professional advisers from private business based in 45 offices around the UK who are currently helping 3,000 businesses hoping to expand overseas. British Trade International also has 200 offices overseas which attract high-quality FDI to the UK. \n"We are at our most effective if we work with companies over time to become sustainable exporters," Brown said. \nTaiwan uses its own network of 86 embassies and trade representative offices around the globe to offer the same advice to Taiwanese companies wishing to invest overseas. It also uses those offices to attract investment to Taiwan, Council for Economic Planning and Development Deputy Chairwoman Ho Mei-yueh (何美玥) said yesterday. \n"We encourage our people to go where there are investment offices, as they can offer advice about legal affairs and are connected to those societies," she said. \nPartly based on what is happening in the UK, Taiwan is offering incentives to attract foreign investors, such as tax and rent breaks, and is relaxing regulations in the services sector, Ho said. \n"The service sector is the future, especially the financial sector," she said. \nTaiwan is also gearing up for a major international investment conference, the 2003 Taiwan Business Alliance which runs from Oct. 19 to Oct. 21. \nOn Sunday, the Ministry of Economic Affairs announced that it had already received pledges of NT$136.79 billion in investment to come into the country in the run up to the conference.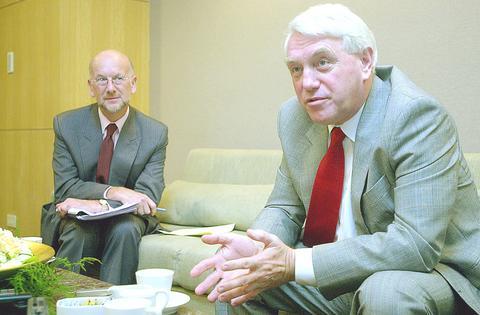 Stephen Brown, right, group chief executive of British Trade International, speaks to reporters yesterday in Taipei. Paying close attention is Derek Marsh, director-general of the British Trade and Cultural Office.
PHOTO: GEORGE TSORNG, TAIPEI TIMES
Comments will be moderated. Keep comments relevant to the article. Remarks containing abusive and obscene language, personal attacks of any kind or promotion will be removed and the user banned. Final decision will be at the discretion of the Taipei Times.